Rights
Human Rights/Free Speech/Media
Taliban Minister Mawlawi Mohammad Yaqoob Mujahid targets Pakistan over treatment towards Afghan nationals
Just Earth News | @justearthnews | 06 Nov 2023, 04:10 am Print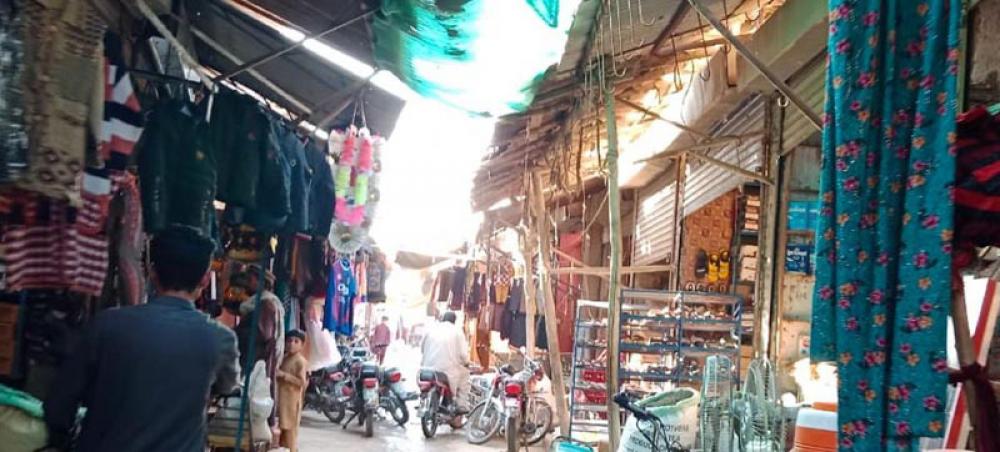 Afghanistan-Pakistan
A makeshift market in Afghan refugee camp Kot Chandna in the Mianawali district of Pakistan's Punjab province. Photo Courtesy: Muhammad Faisal
Afghanistan's acting Defence Minister Mawlawi Mohammad Yaqoob Mujahid has criticised the Pakistani government's decision to expel Afghan nationals and said the neighbouring country should consider the consequences of such actions.
In an audio clip, Mujahid called on the regime in Pakistan to not 'be cruel to the Afghans, not seize their personal property and assets', reports Tolo News.
"They cannot do it by any law or rule. Such actions will be questioned," he said. "We will attempt with all our capacity to prevent it and will not allow anyone to seize and steal the personal property of our Afghan brothers," the minister said.
He also urged the international community, UN and other organizations to press Pakistan to end "the current situation towards the refugees."
"Even though it sends the refugees to their country, they [refugees] should be sent to the country with dignity and return to their homeland," he said.
He said the ongoing situation is deteriorating relationship between neighbours.
"So, the Pakistani regime should think of the consequences of whatever it is doing. It should plant as much as it will be able to reap," he was quoted as saying by Tolo News.
UN agencies last week called on Pakistan to continue protecting children and families seeking safety amidst rising concerns over the Government's new 'Illegal Foreigners Repatriation Plan'.
According to news reports, Pakistani security forces began detaining and deporting dozens of Afghans under the new policy this week after a Government deadline for them to leave ran out.
The majority of undocumented refugees who have settled in Pakistan over decades are from neighbouring Afghanistan, and following the Taliban takeover, thousands more fled seeking sanctuary.
The UN refugee agency UNHCR, migration agency IOM, together with children's agency UNICEF, said they are "deeply concerned for the safety and well-being of children and families affected…and alarmed at the potential consequences of this plan's implementation."
Almost 30 million people require humanitarian assistance and 3.3 million are internally displaced inside Afghanistan amidst overlapping crisis.
Since 15 September an estimated 160,000 Afghans have left Pakistan, with 86 percent of families reported fear of arrest as the most common reason for leaving.
"Pakistan has a proud tradition of hosting refugees, saving millions of lives. This generosity is still needed", the agencies said.
Although the undocumented are designated for repatriation in phase one, there are reports of registered refugees, including Afghan Citizenship Card holders and Afghans scheduled for resettlement, being pressurised despite assurances they will be protected."
"Any return needs to be voluntary and done in a safe and orderly manner, with full respect for rights and protection of those in need" stressed UNHCR's Representative, Philippa Candler.
UNICEF Pakistan Representative, Abdullah Fadil, said: "A child is a child. Children everywhere must be protected at all times to live with dignity, so they can grow, learn and reach their full potential".
UNHCR, IOM and UNICEF continue to appeal to the international community to increase support for hosting vulnerable children and families and refugees in Pakistan.