UNICEF says millions of children in Pakistan still need urgent support even a year after deadly flood
Just Earth News | @justearthnews | 25 Aug 2023, 03:13 am Print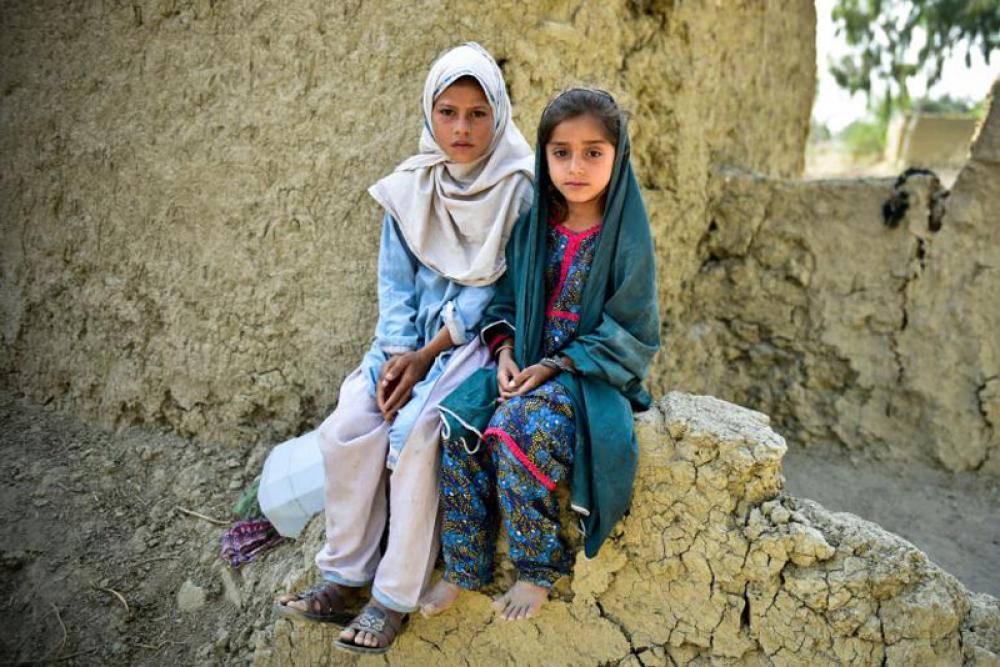 Pakistan
Muriko Bibi (7) and Tehseen (6) sit on the damaged wall of their mud house which was almost destroyed during the 2022 floods in Pakistan. Photo Courtesy: UNICEF/Pakistan/Sami Malik
One year after historic floods devastated Pakistan and a national state of emergency was declared, millions of children continue to need humanitarian assistance and access to essential services, UNICEF warned today. Recovery and rehabilitation efforts remain underfunded.
This season's monsoon rains are worsening already challenging conditions for flood-affected communities, tragically claiming the lives of 87 children across the country.
UNICEF estimates there are still 8 million people, around half of whom are children, that continue to live without access to safe water in flood-affected areas.
Over 1.5 million children require lifesaving nutrition interventions in flood-affected districts, while UNICEF's current appeal of US$173.5 million to provide life-saving support remains only 57 per cent funded.
"Vulnerable children living in flood-affected areas have endured a horrific year," said Abdullah Fadil, UNICEF Representative in Pakistan. "They lost their loved ones, their homes and schools. As the monsoon rains return, the fear of another climate disaster looms large. Recovery efforts continue, but many remain unreached, and the children of Pakistan risk being forgotten."
Last year's floods submerged one third of the country, affecting 33 million people, half of whom were children.
Vital infrastructure was damaged or destroyed – including 30,000 schools, 2,000 health facilities and 4,300 water systems.
The climate-related disaster deepened pre-existing inequities for children and families in affected districts.
One third of children were already out of school before the floods, malnutrition was reaching emergency levels and access to safe drinking water and sanitation was worryingly low.
Since August 2022, thanks to support from the international community, UNICEF and partners have reached 3.6 million people with primary health care services; enabled access to safe water for 1.7 million people in areas where water networks were damaged or destroyed; reached over 545,000 children and caregivers with mental health and psychosocial support; and supported education for over 258,000 children.
Over the past twelve months, UNICEF has screened 2.1 million children for severe acute malnutrition – a condition where children are too thin for their height - and admitted 172,000 children for lifesaving treatment. Yet the needs continue to outstrip the resources required to respond.
"UNICEF calls on the Government of Pakistan and partners to increase and sustain investment in basic social services for children and families. We must build back climate-resilient systems that bridge equity gaps and reduce vulnerability to climate shocks. We cannot forget the children of Pakistan. The flood waters have gone, but their troubles remain, in this climate volatile region," said Fadil.