Environment/Science
Environment/Science
Another magnitude 6.3 earthquake hits Afghanistan's Herat
Just Earth News | @justearthnews | 11 Oct 2023, 06:53 am Print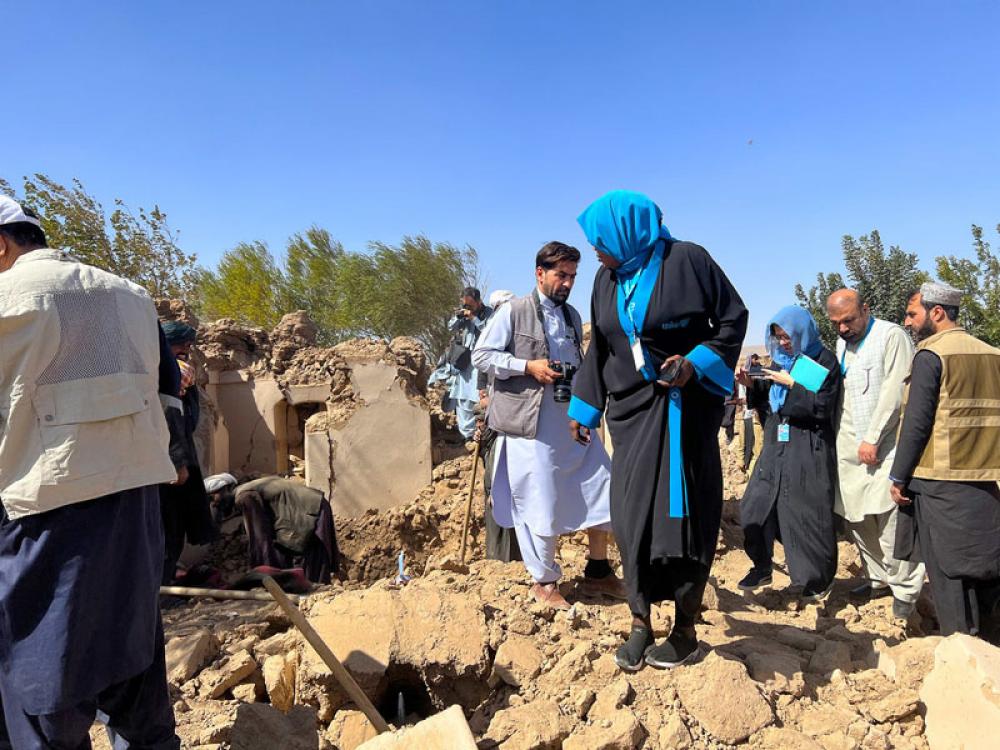 Afghanistan
Another 6.3 magnitude earthquake hits Herat region of Afghanistan. Photo Courtesy: UNICEF/Rebecca Phwitiko
A second earthquake has hit Afghanistan's Herat region which experienced a magnitude 6.3 quake a few days ago that left over 2,000 people dead.
The intensity of the new quake was also 6.3 on the Richter Scale.
According to reports, the epicentre of the quake was located 28km (17 miles) north of the city of Herat.
The impact of the new quake is not yet clear, but many are already sleeping in the open after their homes were destroyed on Saturday, reports BBC.
OCHA spokesperson, Jens Laerke, said an estimated 12,110 people, or 1,730 families, have been affected in five districts of Herat. That number is expected to rise as assessments continue.
World Health Organization (WHO) spokesperson Tarik Jasarevic said that the immediate focus now is to save the lives of the injured and to ensure survivors have access to humanitarian relief, including essential health services. "Women, children and vulnerable populations are gravely affected by the disaster," he said, adding that female health workers in the country continue to attend to patients, with no discrimination.
Jasarevic confirmed that the UN health agency has provided enough supplies to treat 650 injured patients at Herat Regional Hospital. An additional 25 metric tonnes of medicines and medical supplies have also been sent to Herat, while 54 mobile health teams, including three by WHO, have been deployed in the affected areas and 12 ambulances have been sent to Zindajan District and Ghorian District to evacuate causalities to the regional and other hospitals.
Risk of disease
The WHO spokesperson warned that displacement caused by the disaster poses a significant health risk, including increasing the transmission of infectious diseases, such as measles, acute respiratory infections and acute watery diarrhoea.
He urged the authorities to boost preparedness in the event of disease outbreaks.
He also called for psychological first aid for the survivors and friendly spaces for the children who have experienced significant stress and loss of loved ones. Echoing those concerns OCHA's Laerke warned that children are particularly vulnerable, having suffered severe psychological distress from the earthquake, and require mental health and psychosocial support.