Economy
World / Countries / MNCs
US govt shuts down over Obamacare
Just Earth News 01 Oct 2013, 06:40 am Print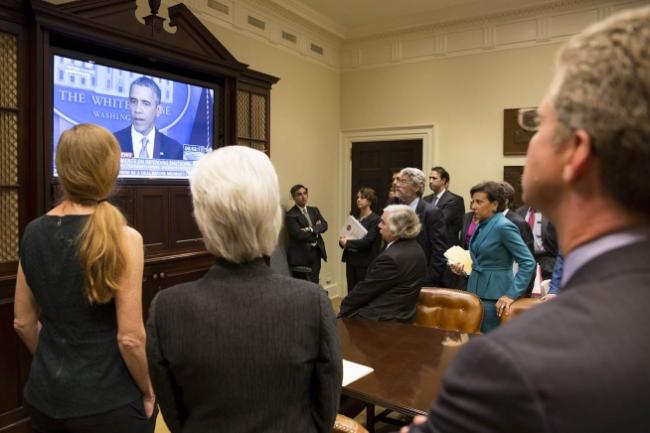 Washington, Oct 1 (JEN) Differences among the Republican lawmakers in the House and the Democrats in the Senate over the spending over President Obama's signature health care law, led to the first government shutdown in United States in 17 years on Tuesday which also means unpaid leave for eight lakh government employees in America.
The US government shut down at 12:01 a.m. ET Tuesday as the standoff over Obamacare, which is the health care law of Barack Obama, continued.

According to a CNN report while "House Republicans insisted the spending bill include anti-Obamacare amendments the Senate Democrats were just as insistent that it didn't."

However while essential services will continue and employees engaged in those sectors will work, about 800,000 non-essential government workers will be furloughed.

The Obama government earlier said if "Congress does not fulfill its responsibility to pass a budget today, much of the United States government will be forced to shut down tomorrow." And it happened.

President Obama delivered remarks from the White House Press Briefing Room about what that shutdown would mean for the country.

While some services will continue -- social security checks, postal service, operations related to national security or public safety –- a number of changes would go into effect immediately, he said.

"Office buildings would close. Paychecks would be delayed. Vital services that seniors and veterans, women and children, businesses and our economy depend on would be hamstrung. Business owners would see delays in raising capital, seeking infrastructure permits, or rebuilding after Hurricane Sandy. Veterans who've sacrificed for their country will find their support centers unstaffed.

"Tourists will find every one of America's national parks and monuments, from Yosemite to the Smithsonian to the Statue of Liberty, immediately closed. And of course, the communities and small businesses that rely on these national treasures for their livelihoods will be out of customers and out of luck," said Obama.

A shutdown would also disrupt the economy, President Obama said. "It would throw a wrench into the gears of our economy at a time when those gears have gained some traction."

Obama earlier said all of this was entirely preventable had the House chose to do what the Senate has already done.

"...and that's the simple act of funding our government without making extraneous and controversial demands in the process, the same way other Congresses have for more than 200 years," he said.

"Unfortunately, right now House Republicans continue to tie funding of the government to ideological demands like limiting a woman's access to contraception, or delaying the Affordable Care Act, all to save face after making some impossible promises to the extreme right wing of their party.

"The American people sent us here to govern," the President said. "They sent us here to make sure that we're doing everything we can to make their lives a little bit better -- to create new jobs, to restore economic security, to rebuild the prospects of upward mobility. That's what they expect."

"And the American people understand there are differences between parties," President Obama said, "but they also "expect that we don't bring the entire government to a halt or the entire economy to a halt just because of those differences."

The Patient Protection and Affordable Care Act (PPACA), commonly called the Affordable Care Act (ACA) or Obamacare, is a United States federal statute signed into law by President Barack Obama on March 23, 2010. Together with the Health Care and Education Reconciliation Act,it represents the most significant regulatory overhaul of the country's healthcare system since the passage of Medicare and Medicaid in 1965.

The ACA aims to increase the quality and affordability of health insurance, lower the uninsured rate by expanding public and private insurance coverage, and reduce the costs of healthcare for individuals and the government. It provides a number of mechanisms—including mandates, subsidies, and insurance exchanges—to increase coverage and affordability.


Image: Members of the Cabinet watch as President Barack Obama makes a televised statement on a possible government shutdown, in the Roosevelt Room of the White House, Sept. 30, 2013. (Official White House Photo by David Lienemann)