Civilians in Yarmouk facing vulnerability of highest severity: UN agency
19 May 2015, 07:37 am Print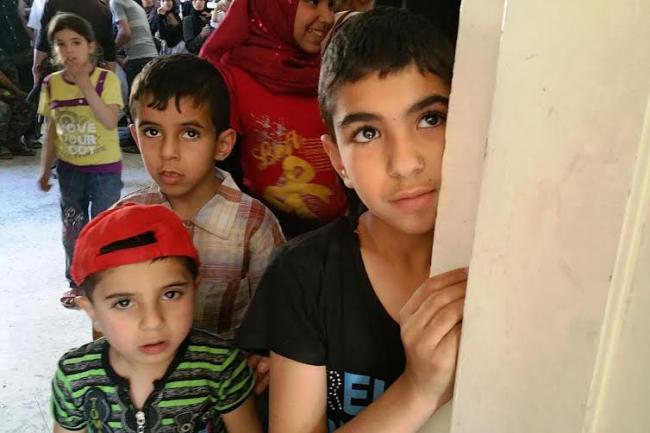 New York, May 19 (JEN): As the United Nations agency assisting Palestinian refugees in the Middle East continued humanitarian operations in around the Yarmouk Camp, deep concerns remained about violence that continues to profoundly threaten the lives and safety of Palestine refugees.
"The vulnerability of civilians in Yarmouk remains of the highest severity," said UNRWA spokesperson, Christopher Gunness.
He said, "Without access, the most basic humanitarian needs of up to 18,000 Palestinian and Syrian civilians, including 3,500 children, continue to be left unmet."

Illustrating the importance of such assistance, UNRWA used their latest day-long trip to Yalda, Babila and Beit Saham to provide essential health services, vaccinations, dental services, fresh water and child nutritional supplements contributed by WFP and UNICEF.
At a mobile health point, medical personnel treated 315 patients and found one child under five years old who was moderately malnourished. They also distributed child nutritional supplements, food and medicines.

"UNRWA's priority remains the delivery of humanitarian aid to civilians within Yarmouk itself," said Gunness, who reiterated the agency's strong demand for respect and compliance with obligations to protect civilians and the establishment of secure conditions under which life-saving humanitarian assistance can be delivered.

Those receiving assistance were Palestinian and Syrian families displaced or affected by conflict, plus host communities, and UNRWA continues providing assistance to civilians from Yarmouk who remain displaced in Tadamoun, an area on the north-eastern periphery.

"We cannot continue to leave this besieged community without life-saving support," Gunness said.
He added, "UNRWA's ongoing operations to the areas around Yarmouk represent a sustained demonstration of the commitment of the UN, both UNRWA and partners, to providing essential assistance to all civilians affected by the crisis in Yarmouk."

UNRWA continues to work closely with partners and UN Agencies to mobilize resources for a large-scale humanitarian response to support the civilians of Yarmouk. Stocks of food, mattresses, blankets, and hygiene kits have been prepositioned to respond in case of further displacements from Yarmouk.

The agency has appealed to donors to increase support through its Call for Funds, seeking an immediate injection of $30 million.
The UNRWA Syria Crisis Appeal has received only 21 per cent of the funds needed for 2015 and chronic underfunding for humanitarian interventions in Syria continues to undermine the agency's capacity to sustain life-saving emergency interventions.