Christian protest forces Israeli Museum to remove controversial Ronald McDonald statue
India Blooms News Service | @indiablooms | 20 Jan 2019, 06:30 pm Print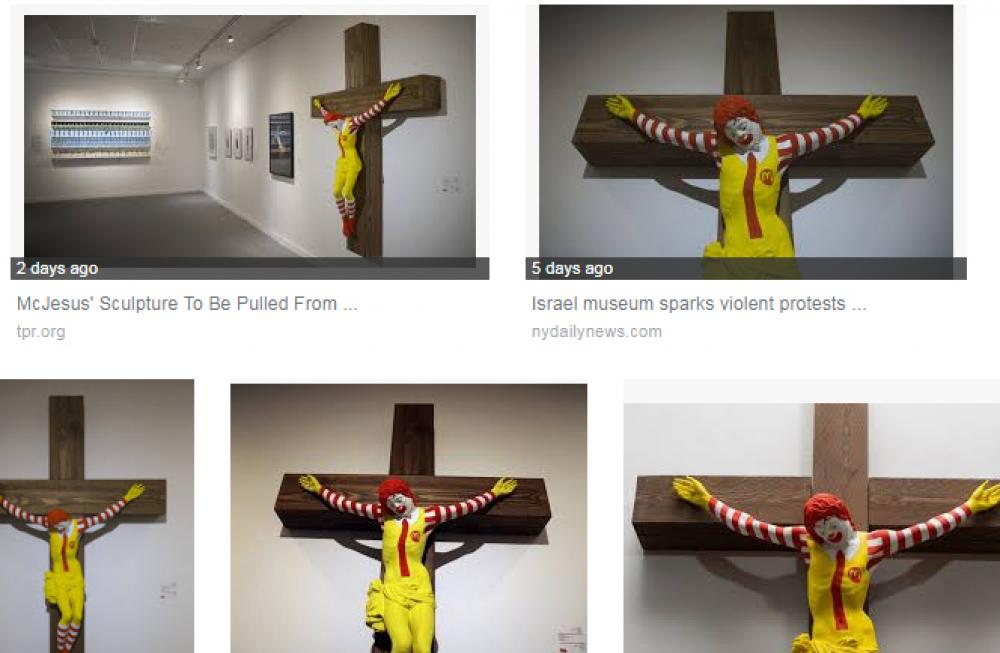 Jerusalem: An Israeli museum triggered a controversy over an artwork which showcased a sculpture depicting the McDonald's mascot as the crucified Jesus, forcing officials to remove it following violent protest by Christian minorities of the nation.
The artwork in the middle of the controversy is a life-sized sculpture of fast food chain McDonald's clown mascot on a cross and it is created by Finnish artist Jani Leinonen.
It was due to be displayed in Haifa city for several months.
As per The Independent report, the piece sparked protests, which became violent on Friday, when three police officers were injured as dozens of demonstrators tried to force their way into the Haifa Museum of Art.
The newspaper report further said one person was arrested on suspicion of assault after clashes outside the gallery.
Police are reportedly searching for two others who are suspected of throwing fireballs at the building.
Haifa Mayor Einat Kalisch-Rotem last week announced that the controversial sculpture will be removed.
"In conclusion with the heads of the churches, and the question of the McCarthy's loan contract ends these days, the work will be removed and returned as soon as possible. The rest of the items will depend on a closed room," she tweeted.
Artist Leionen even wanted the sculpture to be removed from the venue.
Israeli newspaper Haaretz reported: "Finnish artist Jani Leinonen, creator of the 'McJesus' artwork on display in the Haifa Museum of Art, which belatedly triggered protests by hundreds of Christians last week, had asked the museum to remove the piece in September because he had joined the BDS movement."