Dreams in crisis: Children send world leaders postcards from the edge
Just Earth News | @justearthnews | 21 Feb 2023, 02:32 am Print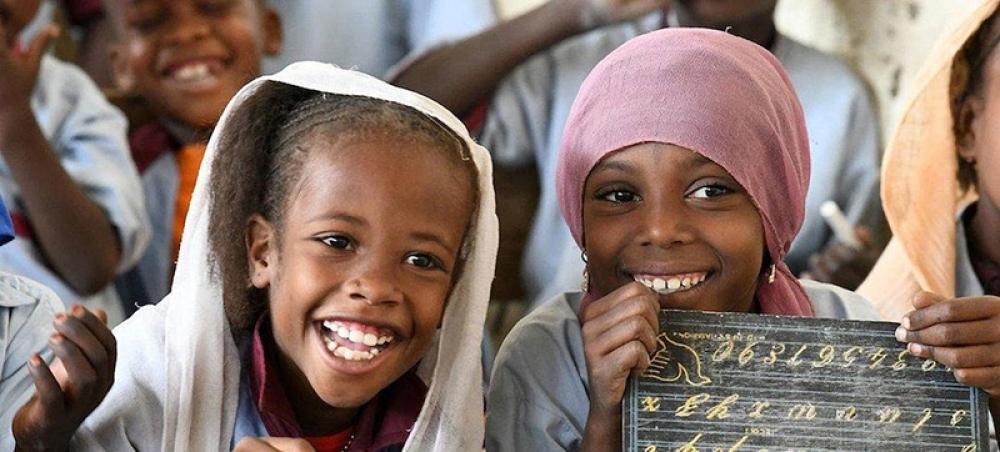 Image: UNICEF Chad/Nancy Ndal-lah
New York: Dreams thrive, even in crisis, with a new UN-led campaign spotlighting the next generation and their ambitions, urgently scrawled to the world on postcards from some of the most crisis-ravaged parts of the world.
Alima from Burkina Faso wants to be a police officer, Awa from Mali dreams of being a nurse, and 11-year-old María Gabriela from Ecuador hopes to go to veterinary school.
Although their names are not real – to protect them – their dreams are. Right now, 222 million young dreamers like Alima, Awa and María Gabriela are facing the horrors of war, disaster, and displacement. They want to learn, but the conflict, climate shocks, or instability surrounding them is curtailing keen, simple wishes: to go to school and learn.
'Let us finish our studies'
These postcard-sized glimpses of their future dreams paint a clear picture, worth well more than a thousand words. Education Cannot Wait, the UN global fund for education in emergencies and protracted crises, recently launched its Postcards from the Edge campaign to zoom in for a closer look.
A postcard from 14-year-old Lucas from the Democratic Republic of the Congo sent a message to the UN Refugee Agency: "I ask world leaders and UNHCR to think of us refugee children and provide funding to let us finish our studies."
Ending siloed approaches
The billion-dollar UN global education fund works to do just that, partnering with governments, public and private donors, UN agencies, civil society organizations, and other humanitarian and development aid actors to boost progress and end siloed approaches.
With UNHCR and the fund's assistance, Lucas has returned to school, pursuing his dream of becoming a doctor. As of March 2022, the UN global education fund has reached 6.9 million children and adolescents.
To date, the campaign has received more than 60 letters, drawings and videos, with more arriving daily from girls and boys supported through UN-funded initiatives from more than 20 crisis-affected countries.
Keeping SDG promises
"We must listen to the world's children," said the global fund's director Yasmine Sherif. "They deserve to be heard."
The campaign, launched in late January, calls on world leaders and public and private sector donors to keep their promises to ensure education for all by 2030, as outlined in the 2030 Agenda for Sustainable Development.
In line with the Agenda's overarching goal of "leaving no one behind", the global fund targets communities in need, including a recent $1.2 million grant awarded to the International Disability Alliance (IDA), which operates with partners in 200 countries and territories. The grant will support a three-year-long initiative aimed at accelerating inclusive education in emergencies for children with disabilities, including those from such underrepresented groups as indigenous communities.
Postcards from Afghanistan
Dreams of being in school also came via several postcards from children in Afghanistan. Since the Taliban returned to power in 2021, new rules are banning girls from education and denying women their human rights.
"I want to get education and become a well-known doctor," Zehab wrote on her postcard. "But, I am wondering that I might not achieve my dreams, as girls are not allowed to attend schools in Afghanistan. I call on the world leaders to help us and give us the opportunity to learn and lead our future."
While it is unclear whether she will be able to continue studying, for now, with support from the global fund and its partner Street Child, Zehab and others are still able to participate in a non-formal community-based learning programme.
New Global Champion
To mark the International Day of Women and Girls in Science, observed on 11 February, the UN global fund announced its newest Global Champion: Somaya Faruqi, the former captain of the Afghan Girls' Robotics Team who made international headlines during the COVID-19 pandemic after building a ventilator from used car parts.
She said she had accepted the fund's appointment "on behalf of all the girls worldwide who dream – against all odds – of an education".
"These are the future scientists and leaders of tomorrow," she stressed, calling for continued support for girls' education in hotspots like Afghanistan, from which she and her teammates fled in 2021.
"So many are being left behind," she cautioned. "We must unite in our efforts to ensure girls everywhere can access high-quality science, technology, engineering and math education, and realize our collective dreams of a better, more equal world for all."
Urgent support needed
To help do so, Education Cannot Wait has drafted a four-year strategic plan and donors have recently pledged more than $826 million, which will help the fund and its partners to reach an additional 20 million children caught in some of the world's worst humanitarian crises. The fund's chief said all children deserve their human right to an education.
"Right now, 222 million crisis-affected children and adolescents need urgent education support, and more than half of those are girls," Ms. Sherif said. "It is critical that Education Cannot Wait is fully funded to ensure our global strategic partners are able to continue their impactful work to provide the safety, hope, and opportunity of an education to the world's most vulnerable girls and boys."
Alima, Awa, María Gabriela and millions of other children are counting on it.