NIP organizes awards and panel discussion focusing on the differently abled and senior citizen
23 Sep 2015, 07:04 am Print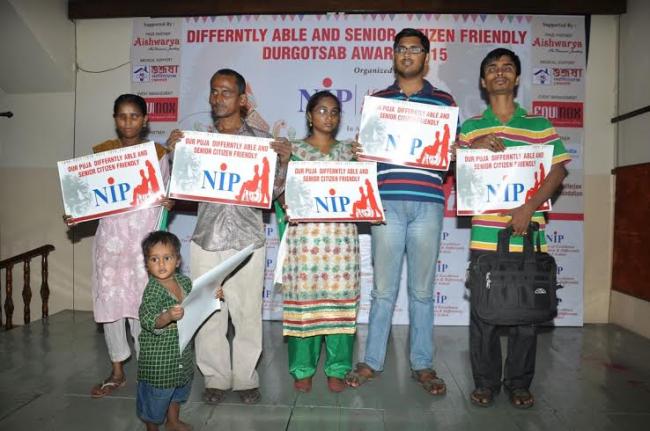 Kolkata, Sept 23 (JEN): National Institute of Professionals (NIP), an organization that runs computer training centre for the blinds, came up with the initiative to organize 'Differently Abled and Senior Citizen Friendly Durgotsab Awards' for the year 2015. ,
In this connection a panel discussion was also held on the topic, 'Is This Durga Puja Differently Abled and Senior Citizen Friendly?' at Nehru Children's Museum in association with Office of the Commissioner of Disabilities, Dept. of Social Welfare, Govt. of West Bengal, Forum For Durgotsab.

The event was graced by artists like Amar Sarkar, Prasanta Pal and The Vice-President of Forum for Durgotsab Partha Ghosh, who is the organizer of Shibmandir puja along with many others.

Different other Puja Committees under the Forum for Durgotsab like Chetla Agrani, Bangur Avenue Pratirodh Bahini, Bhowanipore Swadhin Sangha, Shibmandir and others were present to state their views on the arrangements of puja pandals to make the pandals differently abled and senior citizen friendly.

Speaking about the event, Debajyoti Roy, Secretary, NIP NGO said "At the beginning of this Puja season, when everybody desires go with the impeccable mood of celebrations, we have decided to devote ourselves to support a unique fight for humanity, right & equality to enthral our social commitment".