Economy
World / Countries / MNCs
Petcare Industry: Of furry love, pandemic and a rising graph
Just Earth News | @justearthnews | 01 May 2023, 03:31 am Print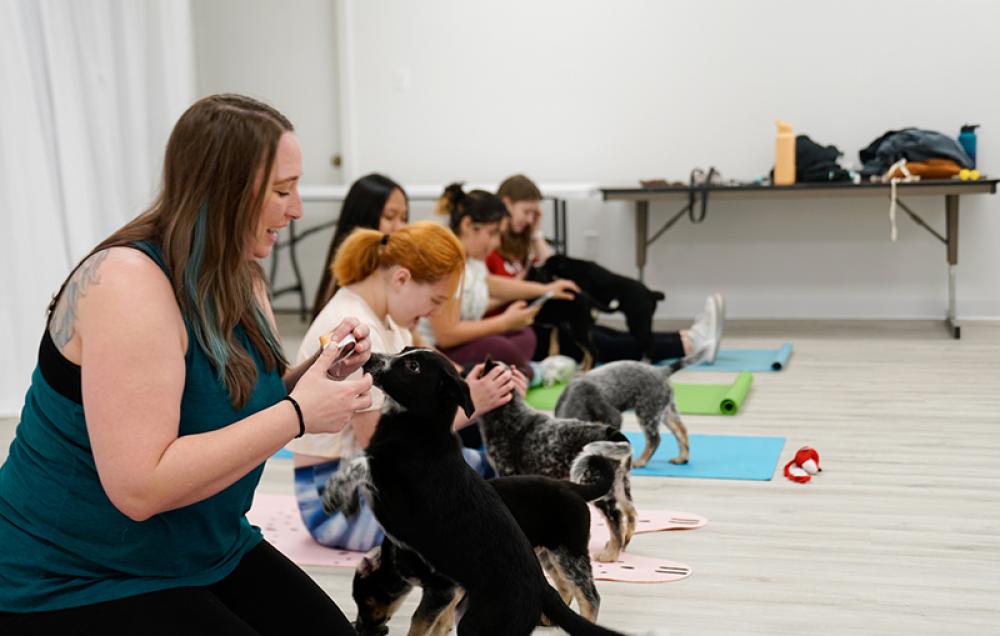 Members of a puppy yoga class play with puppies at Selfie Love in Columbia. (Photo by Lucas Owens)
For the petcare industry across the globe, pandemic sparks growth and creativity. Alyse Pfeil, Stephen Vierling, Lucas Owens and Heather Wang from the USA's Midwest and Amir Bin Rafi from India's Kashmir report.
Two orange tabby cats pawed at each other playfully near the feet of their owner, Eli Bolding.
The cats, named Tax Fraud and Ponzi Scheme, are brothers who were inseparable at the shelter they were adopted from, and they remain that way today. They get noticeably anxious when apart from each other for too long.
Bolding, of Columbia, Missouri, says the cats fill a void in his life – as pets do for millions of others around the world.
"I get to college, I'm kind of here on my own … everything's fun … but there's something missing," said Bolding. "Now that I have a cat it feels right."
Yoga instructor Sarah Judd teaches her class while a puppy attempts to interrupt on Saturday, Apr. 8, 2023, at Selfie Love in Columbia. The class was a collaboration between Selfie Love, Sarah's Yoga Studio, and Little Rays of Sunshine Animal Rescue. ( Photo by Lucas Owens)
During the COVID-19 pandemic, pet ownership rose sharply across the world. In the pandemic's early months, lockdowns forced people to stay home. When restrictions loosened, some continued to work from home. Many brought new pets into those homes for companionship, and others grew closer to the pets they already had.
Businesses worldwide reacted, rushing to meet their needs with everything from pet food to veterinary care to elaborate dog parks. The already-flourishing pet care industry in the U.S. grew even bigger, while a burgeoning pet care industry in India also saw significant growth.
According to a 2022 Forbes Advisor survey, 78% of pet owners got pets during the pandemic. In Missouri, operators of dog shelters in the St. Louis area and Columbia said they saw huge upticks in adoptions.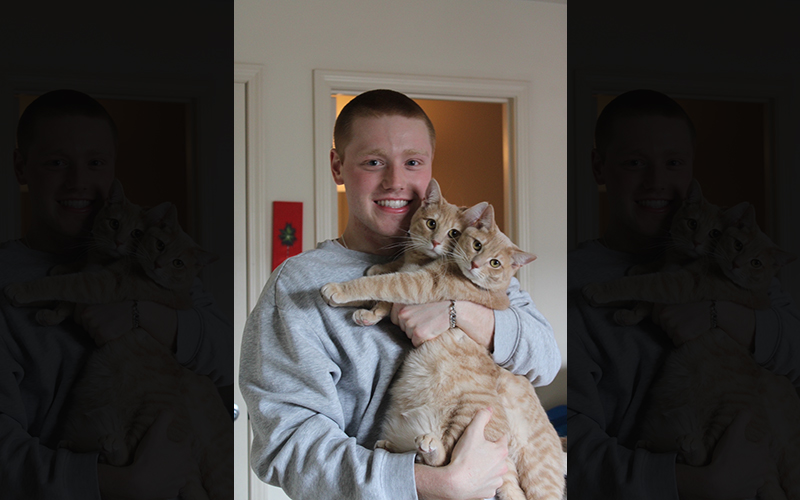 Eli Bolding holds his two cats, Tax Fraud and Ponzi Scheme, on Wednesday, April 5, 2023, in Columbia. Bolding adopted his cats during the COVID-19 pandemic. (Photo by Zeyu Wang)
"Initially, we saw a lot of dogs being adopted (during the pandemic)," said Jennifer Alley of Dirk's Fund Golden Retriever & Large Breed Rescue near St. Louis. "We, maybe in a two week period, only had seven dogs within our care, which was unheard of."
Some want to test the waters by fostering pets before adopting them. "We have more families that are fostering than we've ever had before," she said.
Alley and others said some people unfortunately returned their pets to the shelter after lockdowns ended. But many of those who kept them spared no expense to provide for their needs.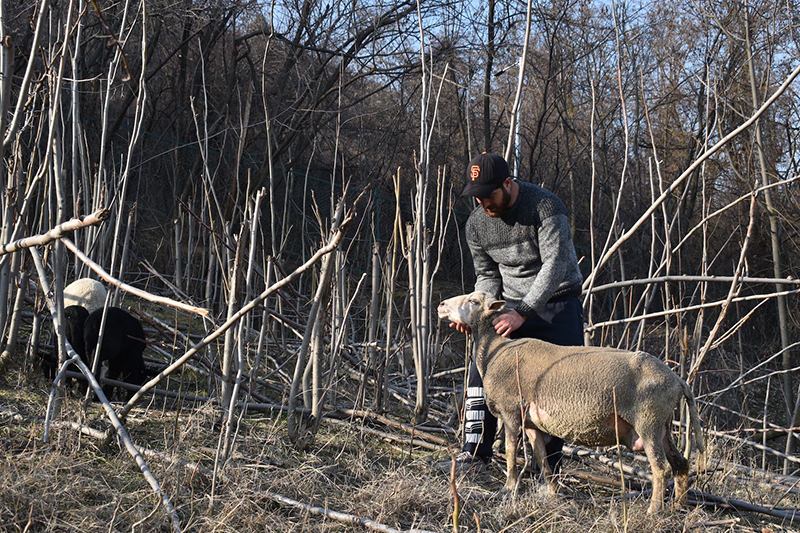 Amaan having a day out with his pet, on Feb. 13, 2022, on the Hari Parbat hillock in Srinagar. (Photo by Amir Bin Rafi)
Business growth of popular online pet food and products retailer Chewy.com reflects these changes in consumer spending habits. According to Chewy's annual report, its 2022 sales totalled over $10 billion – a 13.6% improvement year-over-year. And a March 2023 letter to shareholders said existing customers are spending more, with net sales per average customer growing 15% year-over-year.
According to Chandradeep Singh, an analyst at Market Decipher, a market research and consultancy firm, last year, the pet care market in India was estimated to be around $9 million. At a compound annual growth rate of roughly 19%, it's expected to grow to $25 million by 2032.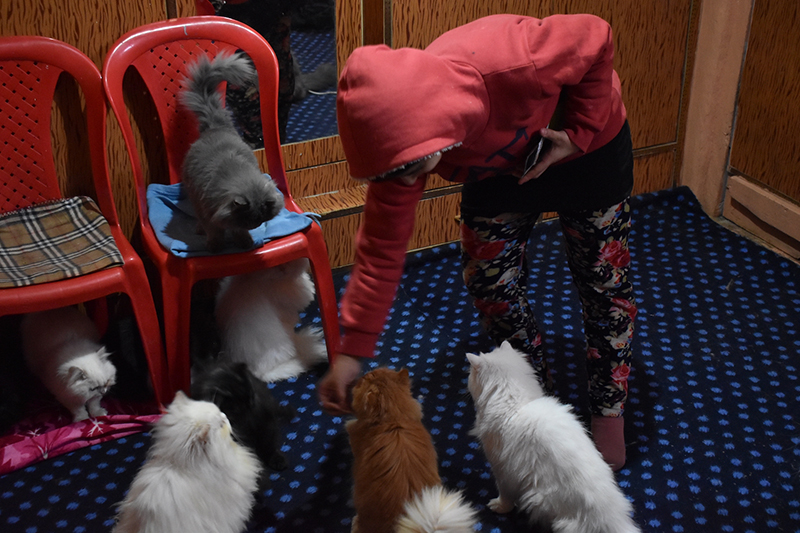 Aayat feeding her cats on Jan. 9, 2022, in Kashmir, India. She owns more than 12 cats. (Photo by Amir Bin Rafi)
That increase "is on account of rising nuclear families, double-income households, changes in lifestyle, urbanization, and increasing pet ownership," Singh said. "A number of people during the lockdown filled their emptiness by adopting a pet."
A Local Business Boom
Business owners and entrepreneurs in Missouri are also responding to consumer needs.
Jessica and Kyle Schlosser, owners of Lizzi & Rocco's Natural Pet Market in Columbia, opened their business in 2009. Since then, it's grown to two locations offering pet food and supplies, plus dog training and grooming services.
Over the course of the pandemic, Jessica Schlosser noticed a huge increase in pet ownership. Retail sales and eventually demand for grooming and training services increased significantly. "We are stronger than we were before – by a long shot," she said.
Schlosser said spending so much time at home during COVID – especially during lockdowns – helped people understand their pets on a deeper level and develop stronger relationships with them. And the depth of that human-pet bond persisted even as people resumed more traditional schedules, she said.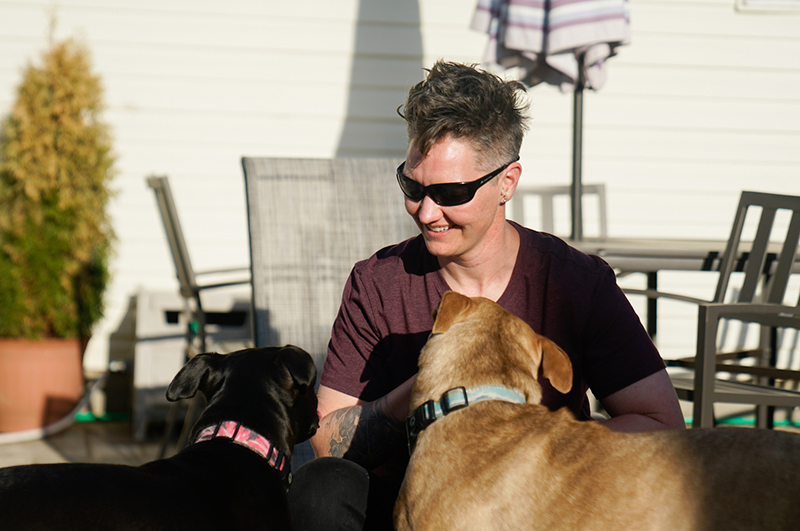 Rebecca Welly feeds her dogs (River and Forest), treats on Monday, April 10, 2023, at her home in Columbia. Welly is the founder of start-up Dog Wild, which won third-place at Missouri start-up weekend. (Photo by Lucas Owens)
This shift in relationship has translated into changes in consumer purchasing, such as buying more "enrichment" toys like puzzles and more engaging and interactive toys. "People are realizing that animals can get bored too," said Schlosser.
They can also get anxious. Sales of products like LickiMats, which help reduce anxiety in dogs, "have taken off," said Schlosser. So have sales for stress-relief and CBD products.
COVID gave rise to another challenge for pet owners: behavior issues in dogs lacking proper training and socialization during the pandemic. Schlosser has a name for these dogs: "COVID puppies."
"Our dog training went from, in essence, nothing in March of 2020 … to now our trainer is jam packed." Lizzi & Rocco's plans to hire a second trainer to accommodate the demand.
Demand for grooming services at Lizzi and Rocco's has also shot up. Since 2020, they went from two groomers to five. After they build out a new space, they'll have six groomers.
Another Columbia entrepreneur, Rebecca Welly, was inspired to start a different pet-related business during the pandemic: Dog Wild, an indoor/outdoor dog park where dogs can run around freely, and pet owners aren't limited by the size of their home or yard or fluctuations in the weather.
The idea came to Welly during COVID lockdowns while stuck working from home with her family and dogs.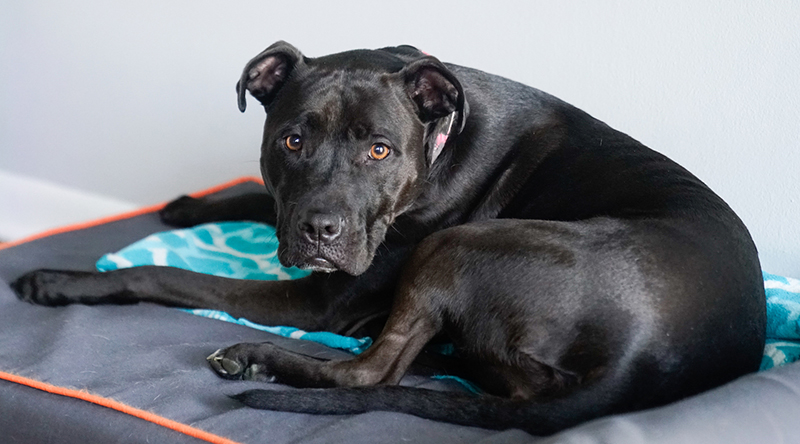 River, one of Rebecca Welly's dogs, rests on a dog bed on Monday, April 10, 2023, at Welly's home in Columbia. Welly adopted River in the winter of 2019. (Photo by Lucas Owens)
After some searching online, Welly realized others had already started similar business concepts. She found companies like Bar K – an indoor/outdoor "fully-staffed dog park, modern bar/restaurant, and event space" based in Kansas City, Missouri.
So in March 2023, Welly entered a startup competition. She tied for third place. "There was a lot of positive feedback from people like, 'Oh my goodness, when are you opening?'" The enthusiastic response from the public created momentum for Welly, who continues developing the idea.
While she doesn't have an opening date for Dog Wild, Welly is actively moving the concept forward. She's had meetings on insurance, legal and accounting aspects of the company to start formal business operations. She's also developing a website with a marketing professional and planning fundraising events. "It's become very busy," Welley said. "I've been trying to do something every day."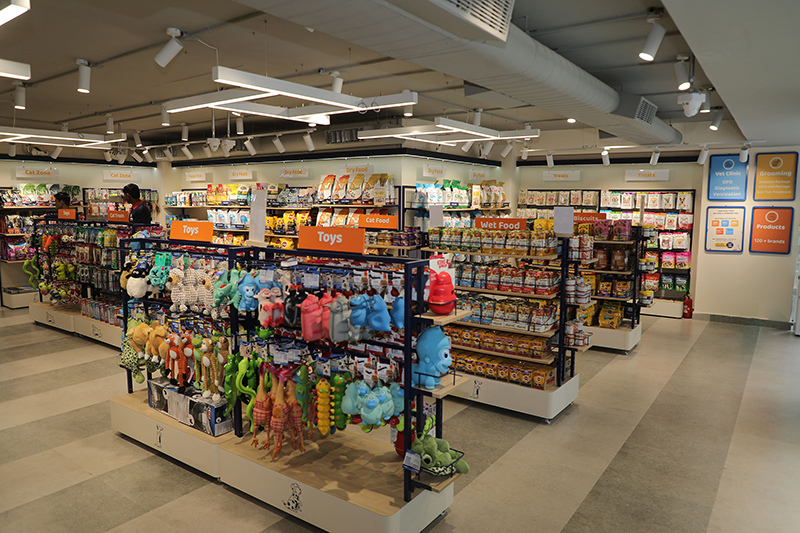 A Zigly store is full of merchandise at the Bangalore Experience Center in Bangalore, India. (Courtesy Photo)
Pet Care Grows in India
Nearly 8,000 miles away in India, entrepreneurs are also scrambling to meet the rising needs of pet owners.
Dua Mushtaq, who owns Pet Erena clinic in Srinagar's Karan Nagar area in Kashmir, said some people are increasingly willing to spend lots of hard-earned rupees on 4-legged members of their families. She said people want to give their pets the best lives they can.
"Pet parents are very serious about their pets nowadays," said Mushtaq. "They keep waiting for new playtime toys, food, and grooming accessories for their pets."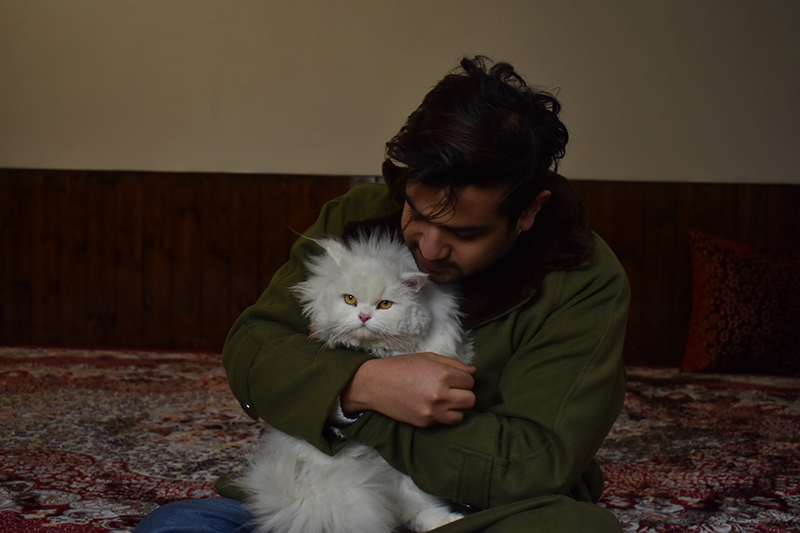 Tahir sits with his cat, Snowbear on Jan. 12, 2022. in Kashmir, India. (Photo by Amir Bin Rafi)
The same is true in Rainawari locality of Old Srinagar, where Tahir Ahmad lives with his white fluffy cat, Snowbear, who has become accustomed to a high standard of living. Snowbear now only eats the expensive cat food Royal Canin — a high-end habit that once compelled Tahir to travel all the way to South Kashmir's Anantnag district (almost 40 miles away) to buy it.
Dr. Iqra Shafi Khan, a veterinarian at Pet Erena, said "people not only are concerned about the health of their pets, but they also are very much serious about their grooming." This has created more opportunities for businesses – including startups.
On December 13, 2022, a Gujarat-based pet training and grooming brand, Zoivane Pets, announced that it raised over $600,000 in seed money from an investor. Nishma Singhal, co-founder of the company, said the main aim of the fundraiser is to become a permanent partner in people's pet parenting.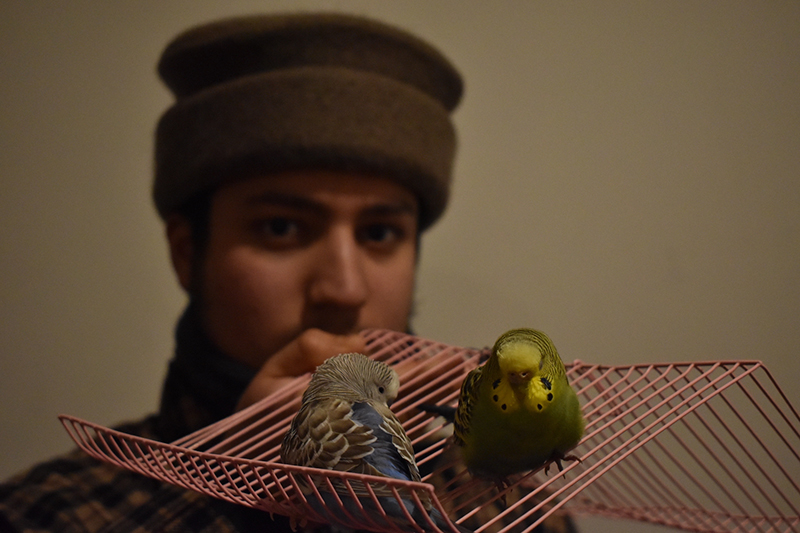 Suhaar holds a pair of Australian budgies on Jan. 17, 2022, in Kashmir, India. (Photo by Amir Bin Rafi)
"The faith that pet parents have demonstrated in Zoivane Pets primarily increased our confidence in raising funds and expanding our portfolio," Singhal said. "I'm extremely proud of what we've accomplished at Zoivane and appreciate listening from pet families who have noticed and experienced benefits in their furry family members from our natural products."
As more people have gotten pets, at least one employer – the Indian e-commerce firm Simpl – has responded with a policy that allows workers to take time off to care for their animals.
"We curated this new leave policy keeping employee centricity at the core. We are cognizant of the varied needs of a diverse workforce to take time-off from work. Hence, we have tried to make our leave policy as inclusive and flexible as possible," said Sneha Arora, the chief human resources officer at Simpl. "It allows people to take time off when needed for emergencies, family occasions, personal milestones, or to just relax and rejuvenate."
In recent years, pet ownership in India has become much like pet ownership in the U.S. But it has its roots in an ancient culture of pet keeping.
On a recent day, sexagenarian Mohammad Sultan walked out of his houseboat on the banks of the river Jhelum in Kashmir, and gently placed his hand on the head of his pet sheep. Looking at the silent waters of the river, he remembered his father's flock of sheep, hens and birds.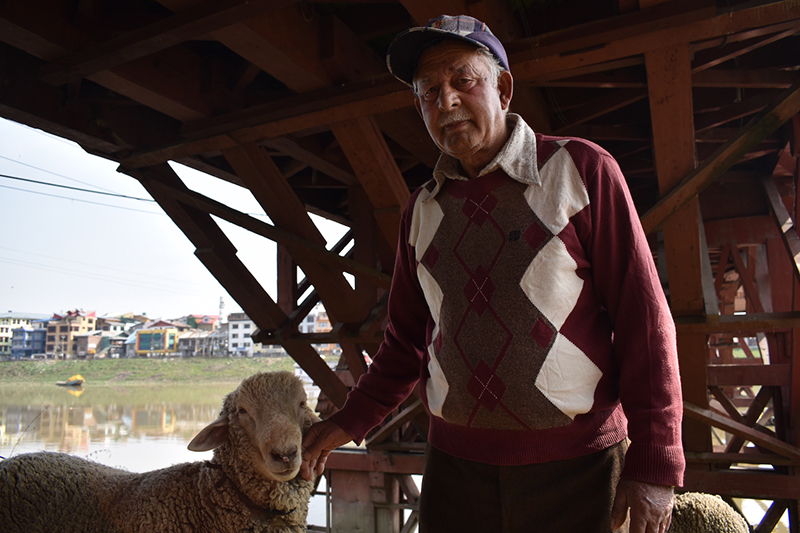 Mohammad Sultan with one of his sheep on Mar. 10, 2022, in Kashmir, India. (Photo by Amir Bin Rafi)
"My father Mohammadd Siddique owned a variety of pets," Sultan recollected. "He used to do this because he was fond of it, and not for showoff or popularity."
For Sultan, keeping animals doesn't involve buying new pet products. It is about holding the memories of his father.
Like the motive of keeping pets, his pet care routine is also different. Sultan himself bathes his sheep once every fifteen days, trims their fur in summer and gives them fodder, rice and fruits to eat. Every evening he takes them on a walk. "This routine keeps both of us healthy."
(This report is a collaboration between the students from the Business Journalism department of the University of Missouri, USA and young journalists from India. The project is overseen by Laura Ungar, a senior journalist at The Associated Press, and Sujoy Dhar, founder-editor of the Indian news agency India Blooms News Service. Both are adjunct journalism instructors at University of Missouri)