Geopolitics
Governance/Geopolitics
Dalai Lama 'tongue sucking' video: Exiled Tibetan Parliament calls out Chinese propaganda
Just Earth News | @justearthnews | 14 Apr 2023, 02:20 am Print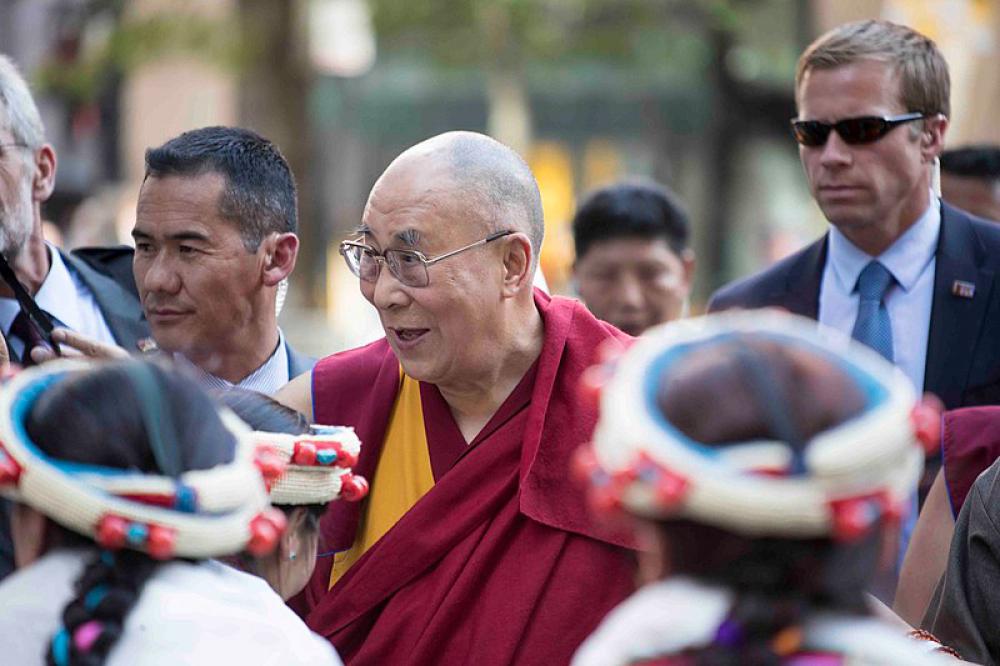 File photo by Diplomatic Security Service/US Dept of State via Wikimedia Commons
Dharmashala: Sending a strong message to China and its machinations to disgrace the Dalai Lama, exiled Tibetan Parliament members have described the video showing the 87-year-old Nobel Peace laureate asking an Indian boy to 'suck' his tongue playfully in a live event in February as 'Chinese propaganda' blown out of proportion to discredit their supreme spiritual leader.
There has been a global condemnation over "China's efforts" to project the action of the Dalai Lama as an act of paedophilia with the Tibetans reacting with outrage.
Dorjee Tseten, a member of the parliament, told Daily Mail: "We need to understand the context within which this incident happened."
"It was, in fact, a public event and was being telecast live... anyone who has followed His Holiness closely knows about his personality and his playful nature," Dorjee Tseten said.
Pointing out that the video was being amplified for political reasons, Tseten was quoted as saying by Daily Mail: "While recognising the genuine concern that the public may have, we also have to be mindful about the negative campaign being carried out by interest groups especially the Chinese communist regime."
The video of Dalai Lama has already sparked a row and defending the Tibetan spiritual leader, Lobsang Sangay, the first president of the Central Tibetan Administration said, "Why is it going viral now - after five weeks?"
"People should understand, if you've watched the video with the boy, Tibetans will say that boy is so lucky he got a hug from his Holiness, and also got a kiss. But from western and other perspectives, I understand it was politically incorrect," said Sangay.
The incident that triggered the row occurred during an interaction on Feb 28 in McLeod Ganj near Dharamshala where the Central Tibetan Administration is headquartered.
Nepal Correspondence, an investigative journalism platform, tweeted: "Here is the original video with audio where a kid wishes to hug #Dalai_Lama. HH due to his poor hearing at old age asks his support about what the kid said. He then accepts kids wish [sic] an calls him. A specific part of the video is then & muted and presented in a different way. [sic]"
" #Chinese agents started the troll stating that the Dalai Lama is a #Pedo & that its a disgusting scene. Pedophilia is what Hans practice in #Tibet and #KPK where #Pakistan supports human trafficking. Remember, Khyber report no 232?," read another tweet.

Tibetan activist Jigme Ugen tweeted: "A Tibetan's Perspective: How and Why an innocent & playful interaction between the #DalaiLama and a young Indian boy has been sensationalized into a clickbait story with leading titles and fake descriptions., and a carefully spliced video."
Dalai Lama apologises
Spiritual leader of Tibet Dalai Lama had apologised to the boy for "kissing" and asking him to "suck his tongue" after a video showing the incident sparked outrage, media reports said.
Dalai Lama's official Twitter and Facebook page in a short statement said, "A video clip has been circulating that shows a recent meeting when a young boy asked His Holiness the Dalai Lama if he could give him a hug.
"His Holiness wishes to apologise to the boy and his family, as well as his many friends across the world, for the hurt his words may have caused. His Holiness often teases people he meets in an innocent and playful way, even in public and before cameras. He regrets the incident."
In the video which went viral on social media, the Dalai Lama was seen sticking out his tongue and asking the boy to suck it.
In 2019, Dalai Lama courted a row by saying if his successor was to be a woman, she should be "more attractive".
Tibetan Uprising
The 1959 Tibetan uprising or the 1959 Tibetan rebellion began on 10 March 1959, when a revolt erupted in Lhasa, the capital of the Tibet Autonomous Region, which had been under the effective control of the People's Republic of China since the Seventeen Point Agreement was reached in 1951.
The Dalai Lama was forced to flee from Tibet the same year and took political asylum in India as the Chinese troops crushed the uprising.
Armed conflict between Tibetan guerillas and the People's Liberation Army(PLA) had started in 1956 in the Kham and Amdo regions, which had been subjected to socialist reform.
The guerrilla warfare later spread to other areas of Tibet and lasted through 1962.
The anniversary of the uprising is observed by Tibetan exiles as the ''Tibetan Uprising Day''.
Here is the original video with audio where a kid wishes to hug #Dalai_Lama. HH due to his poor hearing at old age asks his support about what the kid said. He then accepts kids wish an calls him. A specific part of the video is then & muted and presented in a different way. pic.twitter.com/0ZNef4x5CT

— Nepal Correspondence (@NepCorres) April 11, 2023