Rights
Human Rights/Free Speech/Media
Senior UN official says attacks on or near Gaza hospitals 'unconscionable, reprehensible and must stop'
Just Earth News | @justearthnews | 12 Nov 2023, 07:46 am Print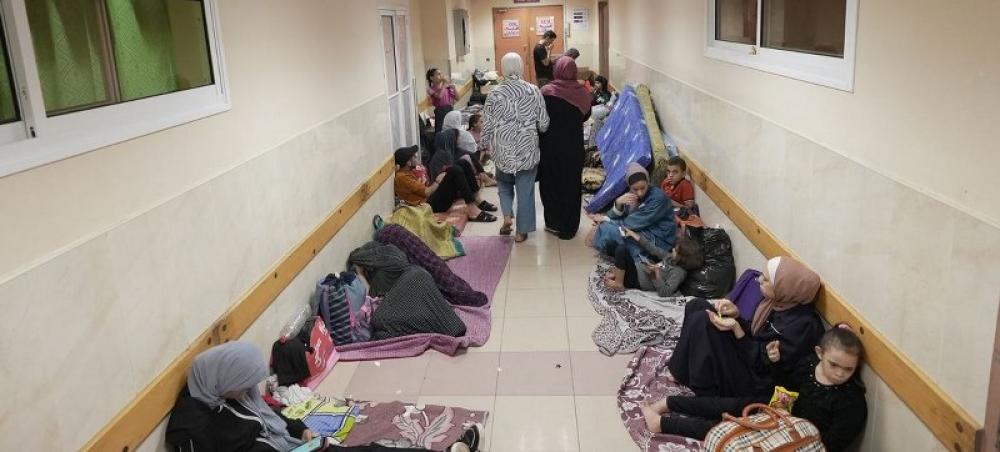 Gaza
Al Shifa hospital is being used as shelter for displaced families in Gaza. Photo Courtesy: WHO
Senior UN officials said on Saturday there could be no justification for any "acts of war" in or around any healthcare facilities, amidst reports that Gaza's largest hospital has come under attack by Israeli forces as they battle Palestinian militants.
In a statement, the Israeli military denied that it had targeted Al-Shifa Hospital in Gaza City, which they claim is above a Hamas command post, but have acknowledged that fighting is happening "around" the facility.
UN relief and humanitarian affairs chief, Martin Griffiths, tweeted that in light of "horrific reports of attacks", there could be "no justification for acts of war in healthcare facilities leaving them with no power, food or water and shooting at patients and civilians trying to flee.
"This is unconscionable, reprehensible and must stop.
"Hospitals much be places of greater safety and those who need them must trust that they are places of shelter and not of war."
Grave concern: Tedros
Tweeting later in the day, the head of the UN health agency Tedros Adhanom Ghebreyesus said that the WHO's regional agency had lost contact with its contacts at Al-Shifa.
"There are reports that some of those who fled the hospital have been shot at, wounded, or killed. The latest reports say the hospital was surrounded by tanks", he wrote.
"WHO is gravely concerned about the safety of health workers, hundreds of sick and injured patients, including babies on life support, and displaced people who remain inside the hospital."
WHO again called for an immediate humanitarian ceasefire in Gaza "as the only way to save lives and reduce the horrific levels of suffering", Tedros added.
"WHO also calls for the sustained, orderly, unimpeded and safe medical evacuations of critically injured and sick patients. All hostages must receive appropriate medical care and be released unconditionally."