Geopolitics
Governance/Geopolitics
India-Uzbekistan Synergy at the SCO
Rashmini Koparkar | @justearthnews | 29 Jun 2023, 10:50 am Print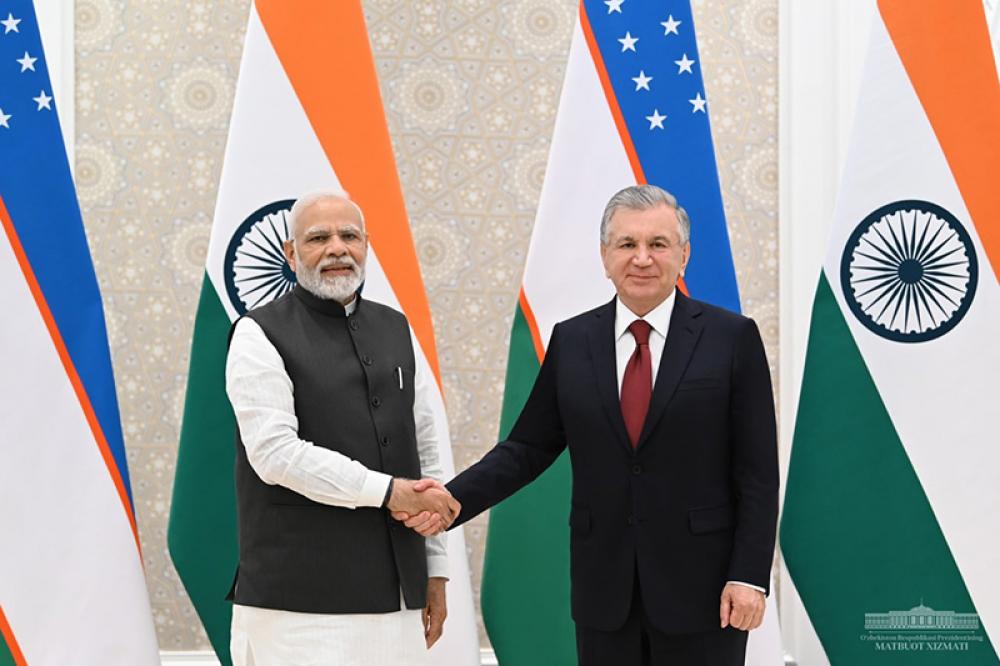 India-Uzbekistan
New Delhi is set to host the 23rd Summit of the Shanghai Cooperation Organization's (SCO) Council of Heads of States on 4th July 2023 in the virtual mode. The rotating presidency of this pan-Eurasian organization came to India from Uzbekistan in the historic city of Samarkand in September 2022.
Interestingly, Uzbekistan had actively supported India's membership of the SCO, the Memorandum of Obligation of which was also signed under Uzbekistan's presidency in the Tashkent Summit in June 2016.
SCO is a nine-member grouping that spans across Eurasia and covers regions like central, south, east and west Asia. It is said to be the world's largest regional organization, with a contribution of about 23 percent of the Earth's total landmass, 40 percent of the world's population and 30 percent of global GDP.
Apart from its geographical and political expanse, the vitality of the SCO also lies in its historical and cultural roots. This grouping represents the confluence of five major ancient civilizations, namely Indian, Chinese, Iranian, Russian and Central Asian.
India's membership of the SCO can be seen as a natural culmination of its expanded engagements with the larger Eurasian region. Since 2017, India has constructively contributed to this organization in content and spirit. It has introduced a number of new initiatives that have received solid backing from the other member states.
At the June 2018 Summit at Qingdao-China, Prime Minister (PM) Narendra Modi gave the template of 'SECURE'; where S stands for Security, E for Economy, C for Connectivity, U for Unity, R for Respect (for each other's territorial integrity), and E for Environment. This template, which beautifully reflects PM's vision for India's activities in SCO, has also been selected as the theme for India's presidency, which is 'towards a SECURE SCO'.
In India's quest for the 'secure' SCO region, the role of the like-minded nations becomes important. Uzbekistan is not only a founding member of the SCO, but it is also a significant player in the region. It occupies a central location, as it shares a border with all other Central Asian Republics (CARs) and Afghanistan.
With a population of about 35 million, it is the most populous country in the region. Almost 50 percent of the total Central Asian population live in Uzbekistan. Moreover, it is abundant in natural resources, especially oil, natural gas, uranium and gold. Lastly, because of its proximity with Afghanistan, Uzbekistan has been susceptible to different security challenges. Nonetheless, the government has taken several measures for dealing with those.
In recent years, Uzbekistan has made steady progress in various arenas. President Shavkat Mirziyoyev, under his 'Development Strategy', has introduced a number of reforms in the fields of administration, legal system, economy, and foreign policy. His attempts to drastically improve relations with the CARs have resulted in enhanced cooperation in the region. Uzbekistan has also played a solid role in the matters of connectivity and security, which were reflected in the SCO presidency theme last year.
Uzbekistan has contributed significantly to the operation of the organisation. The executive committee of SCO's Regional Anti-Terrorist Structure (RATS) is permanently stationed in Tashkent. Uzbekistan has hosted the SCO presidency four times in the past. During the 2022 presidency, more than 80 events were organized covering various sectors and about 40 documents were signed during the summit.
Issues relating to trade, economic and humanitarian cooperation were given the topmost priority. Shavkat Mirziyoyev's proposed initiatives such as the SCO trade fair, SCO special economic zones, international conference on food security and SCO transport forum were well-received by the other heads of states.
After taking over the chairmanship, India has also hosted as many as 134 meetings including 14 ministerial meets. PM Modi's three specific ideas: start-ups and innovation, traditional medicine and millets were part of the larger plan of events. The 'first-ever' initiatives like SCO Digital Exhibition on Shared Buddhist Heritage, SCO Young Scientists Conclave, Consortium of SCO Economic Think Tanks, SCO Start-up Forum and the SCO Business Conclave with special emphasis on MSMEs were extremely successful.
Some of these Indian initiatives can be seen in line with those by the Uzbek side. This synergy comes from the people-centric approach of our leaders and their similar worldview. These countries have introduced programmes in sectors like trade, agriculture, climate change, disaster management, health, education, tourism and culture.
Both during their respective presidencies have come up with several initiatives to intensify trade and economic cooperation.
Secondly, Uzbekistan's emphasis on food security and climate resilient agricultural practices finds resonance in Modi's push for the millets, which simultaneously promotes sustainable agriculture and nutrition.
One of the areas where India and Uzbekistan enjoy incredible synergy is tourism. In his speech in Samarkand, Shavkat Mirziyoyev proposed declaring 2023 as the year of tourism development in the region. An agreement on cooperation in tourism was also adopted in that summit. Consequently, Varanasi was designated as the first-ever tourism and cultural capital of the SCO. On 17th March, the meeting of SCO tourism ministers was held in Varanasi, which discussed promotion of tourism, cultural and humanitarian exchanges.
SCO's prime focus has always been on security and counter-terrorism, which was also reflected in India's presidency. In the meeting of defence ministers on 28th April, the Indian minister affirmed commitment to building defence capabilities of the SCO nations and urged for collective action towards eliminating terrorism.
Furthermore, India has been advocating a cause of peaceful and prosperous Afghanistan with an inclusive government. This is also echoed in Uzbekistan's stance on promoting peace and socio-economic reconstruction of Afghanistan.
In the nutshell, one can see the growing synergy between India and Uzbekistan within the SCO. India, while celebrating its 75th anniversary of independence, is hosting G20 and SCO summits. This reflects its expanding global and regional footprints as well as its pragmatic multilateral foreign policy approach. While there are certain challenges within the SCO, it is interesting to see how India is making a mark in its strong areas. Here, cooperation with like-minded countries like Uzbekistan assumes significance.
(Dr Rashmini Koparkar is Assistant Professor, Centre for Russian and Central Asian Studies, School of International Studies, Jawaharlal Nehru University. The opinion expressed is of the writer)