Rights / Gender
Human Rights
The curious cases of missing activists in Pakistan
Just Earth News | @justearthnews | 15 Dec 2017
A strange phenomenon is gripping Pakistan! One day liberal activists are seen protesting government actions and the next day they are gone. People say it's the government run organisations who are to be blamed for the disappearances of these men, while the government has remained tight lipped about the same.
Raza Khan, a prominent activist, went missing from Lahore on Dec 2 earlier this month. Khan is a well known peace activist who has campaigned for a healthy India-Pakistan bilateral tie.
Ever since his disappearance, other activists have pointed fingers towards Pakistan's military intelligence agencies, allegations that have been downplayed by the latter.
Speaking about the incident, Atiqa Shahid, peace activist and Khan's close friend, told DW that she is concerned about her friend's safety.
"We're concerned about his safety," she said.
But Khan is not alone in the list. During the course of this year, three other prominent secular activists too went missing.
Salman Haider, a university professor, vanished from Islamabad in January.
Haider's absence was followed by the disappearances of three other activists, Waqas Goraya, Asim Saeed and Ahmed Raza. These have raised questions, is it a happenstance?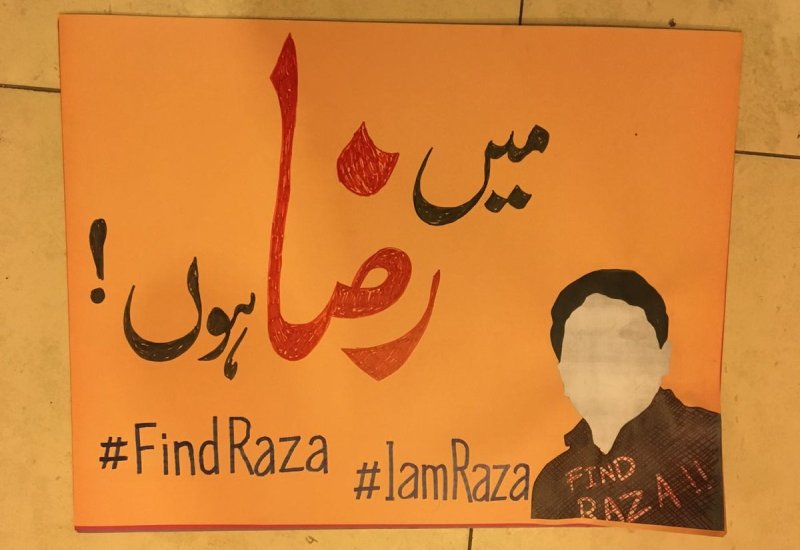 Khan was known for his sharp criticism towards the rise of religious extremism in Pakistan, so his alleged abduction couldn't have come at a better time.

After much speculation, the election commission in Pakistan has given a green signal to terrorist Hafeez Saeed and his party, Milli Muslim League (MML), to contest in the 2018 polls, raising several eyebrows.
Khan opposed it too and is nowhere to be seen now.
"On the day when Khan mysteriously disappeared, we organized a seminar on the rise of religious extremism and the mainstreaming of jihadist groups in Pakistan's politics. We also touched upon the deteriorating civilian-military ties and the fundamental rights of Pakistani citizens," Shahid said.
Throttling Free Speech
At a time when critics and activists are facing a crackdown, some Pakistanis believe that the society needs a change and should uphold free speech and those who are for it.

Nahyan Mirza, an Islamabad-based development professional, told DW, "The civil society needs more unity now to protect free speech in the country. In the age of social media, independent thinkers have a platform to voice their concerns against certain actions of the government, and it is their right."
On one hand, Raza Khan sent an image of a diverse, tolerant and progressive #Pakistan and on the other are the people who abducted him and others like him, sending out the image of Pakistan as an intolerant and dangerous place for peace and human rights activists. #FindRaza pic.twitter.com/UEbv4AOw6L

— Umair Vahidy (@uvahidy) December 14, 2017
Mirza also added a word of caution about Pakistan's over ambitious nature as a country to promote nationalism and religion.
"Pakistani society, unfortunately, is being controlled to a large extent by the rightwing. These groups will never tolerate social, cultural and intellectual change that poses a challenge to their power. But I am hopeful the change will come soon," Mirza said.
Amnesty Rap
The 'vanishing acts' have also riled international groups.
Urging the Pakistani government to act quick, Amnesty International's Deputy South Asia Director, Dinushika Dissanayake, said in a statement, "Pakistani authorities must take all measures as may be necessary to investigate Raza Khan's fate immediately. Scarcely does a week go by without Amnesty International receiving reports of people going missing in Pakistan. Many of them may have been subjected to enforced disappearances, which is a crime under international law."
The plight however is not limited to activists alone. Bloggers too, especially who questioned the military's actions, have encountered a similar experience.
Recounting his horrors, 36-year-old Pakistani blogger Aasim Saeed, who now resides in London, told NPR that it all began with a knock at his door.
Men in civil clothes pushed him inside a car. He was blindfolded and strapped. Later they moved him to a detention centre. Whipped him and quizzed him for hours about his Facebook page that mocked Pakistan's army.
The angry men wanted to know if Saeed was compensated by India to 'bully' the national army. The answer was a no.
He was released later in January.
The actions of these angry men is better put into perspective by this piece of advice from retired Pakistani Brig. Haris Nawaz.
According to him, no Pakistani should ever criticize the army, which is under pressure to end the insurgency in Balochistan.

The released bloggers seldom open their mouth for they fear another detention might be their last.
For Saeed, being in a foreign land allowed him to open up and share his plight.
Last year, as many as 728 people disappeared from Pakistan, according to a data by Human Rights Commission of Pakistan.
The non-governmental body stated that since 2001, over 10,000 people have disappeared from the south Asian nation, but adds that the figure may be underrepresented.
According to HRCP member Zohra Yusuf, most families don't report these cases for the fear of others in the concerned family. Also, police inaction and the rigidity in filing a missing case by law enforcement officers exacerbates the situation.

The China pattern
As far as these cases go in Pakistan, one cannot miss the similarity with China, the south Asian country's closest ally.
China too has been hostile towards its Uyghur population, often terming the ethnic minorities as terrorists.
Several Uyghur association and activists have accused Beijing of indulging in foul-play.
China too has been very critical of its critics, dishing harsh treatment towards them.
Is Pakistan learning the tricks of the trade from its big brother? Only time will tell.
Body Image: twitter.com/uvahidy