With Amul sponsoring Afghanistan cricket team in the World Cup, India lives a moment of glory
Just Earth News | @justearthnews | 07 Jun 2019 Print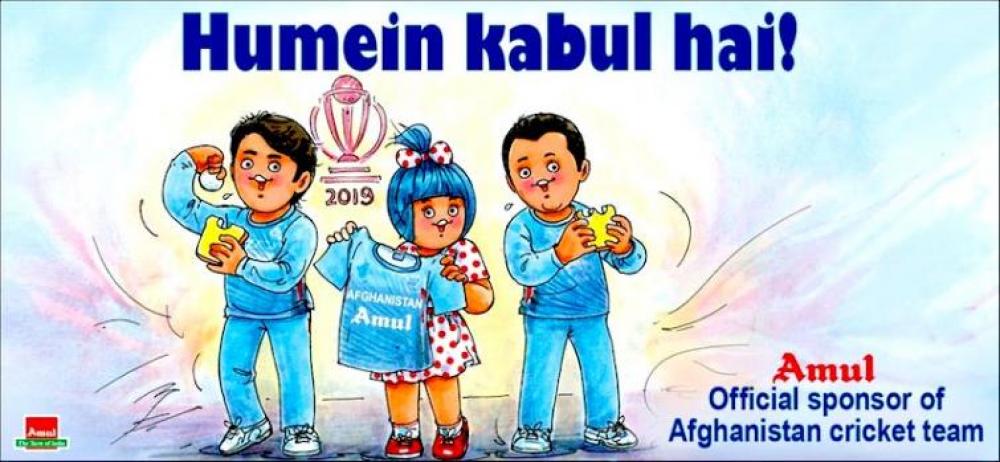 Kabul, Jan 6: When Afghanistan boys came down to the ground to participate in World Cup matches this year, they had a strong Indian connection which probably left millions of people in this country proud.
Anand Milk Union Limited (AMUL), the iconic Indian dairy company owned by a cooperative of milk producers in Gujarat and a household name for every Indian, is the Afghanistan team's official main sponsor in this World Cup.
The sponsorship agreement was signed in New Delhi, India between ACB's CEO, Asadullah Khan and Dr. RS Sodhi, the managing director of Gujarat Co-operative Milk Marketing Federation Ltd. (GCMMF), the organization which overlooks AMUL, the world's largest producer of milk and milk products.

ACB CEO, Asadullah Khan expressed happiness on the partnership between both entities.
He told the cricket board website, "This is a big moment for Afghanistan cricket and we are extremely happy that Amul will sponsor us for the World Cup. This is the first time we play in the World Cup as a full member and the team is well prepared for the event. The team spirit is at the peak level and we look forward to gaining some brilliant results".
Dr. RS Sodhi echoed Asadullah Khan's views and remarked, "We are excited about being associated with Afghanistan Cricket for the first time and Amul is hopeful that this team, rated as the fastest growing team in International cricket, will deliver an outstanding performance in the World Cup."
Even an iconic Amul cartoon, with the signature girl, has been created following the sponsorship deal.
In the cartoon, the girl can be seen holding an Afghanistan team jersey with Amul written on it.
The warm caption of the cartoon read "Humein Kabul Hai."
The caption surely tells how much importance India gives in developing and aiding its neighbour.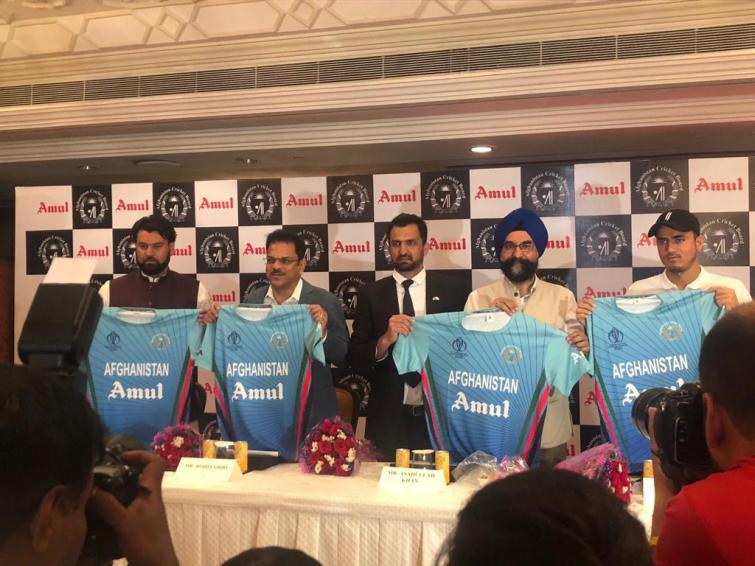 On May 23, when Prime Minister Narendra Modi spelled his charm once again in the hearts of voters to ensure his Bharatiya Janata Party's return to power at the Centre, an old friend from Afghanistan, president Ashraf Ghani, was one of the first international leaders to congratulate him over the victory.
Ghani said in his warm tweet that the people of Afghanistan look forward to expanding cooperation between our two democracies.
"Congratulations to PM @narendramodi on a strong mandate from the people of India. The government and the people of Afghanistan look forward to expanding cooperation between our two democracies in pursuit of regional cooperation, peace and prosperity for all of South Asia," Ghani tweeted.
Modi was quick in his response and said India will continue to stand shoulder to shoulder with the people and Government of Afghanistan in their pursuit of peace, security and prosperity.
Thank you very much President @ashrafghani.

India will continue to stand should to shoulder with the people and Government of Afghanistan in their pursuit of peace, security and prosperity. https://t.co/riU78vRL2K

— Narendra Modi (@narendramodi) May 23, 2019
India and Afghanistan have been expanding their relationship of cooperation over the years.
Ghani had visited India in 2018 and met Modi when they had held talks on wide ranging issues.
India has also been actively involved in reconstruction efforts in war-ravaged Afghanistan. Since 2002, India has committed $2 billion for the socio-economic development of the country.
India's contribution to develop Afghanistan's education is equally significant.
As per a report published by The Diplomat in 2018, the efforts in the education and capacity development domain have included the reconstruction of the Indira Gandhi Institute of Child Health, reconstruction of the Habibia School, provision of 500 annual scholarships, provision of 500 training scholarships to Afghan public servants and deputation of 20 Indian public servants to provide training and mentorship, vocational support to Afghan women, and youth, and capacity building in media and information, civil aviation, agricultural research and education, health care and medicinal science, tourism, education, standardization, rural development, public administration, electoral management and administration, and local governance.
Afghanistan Sports: Cricket and an Indian connection
Afghanistan hosts its home matches in India for quite some time now.
Recently, Afghanistan Cricket Board (ACB) formally asked the Board of Control for Cricket in India (BCCI) to allot a new base as Dehradun lacks the hospitality facilities to host visiting teams.
A delegation from the ACB met BCCI chief executive officer Rahul Johri and Saba Karim, the BCCI's general manager for cricket operations, on Thursday and expressed that it would like to move out of its current home base in Dehradun, reported Sportsstar magazine.
"We have requested the BCCI to shift us to a different venue as there are not many five-star hotels in Dehradun. The BCCI will look into the matter and let us know in due course of time," ACB CEO Asadullah Khan told Sportstar after the meeting at the BCCI headquarters.
Afghanistan has been playing its home matches in India since 2015 when initially they were played in Greater Noida.
However, it later found a new base at the Rajiv Gandhi International Stadium in Dehradun.
Incidentally, Afghanistan hosted Ireland for a Test match this year in Dehradun. Both the teams got their Test status recently.