Rights / Gender
Human Rights
Protests spread as enforced disappearances rise in Pakistan's restive Balochistan
Just Earth News | @justearthnews | 25 Jan 2019 Print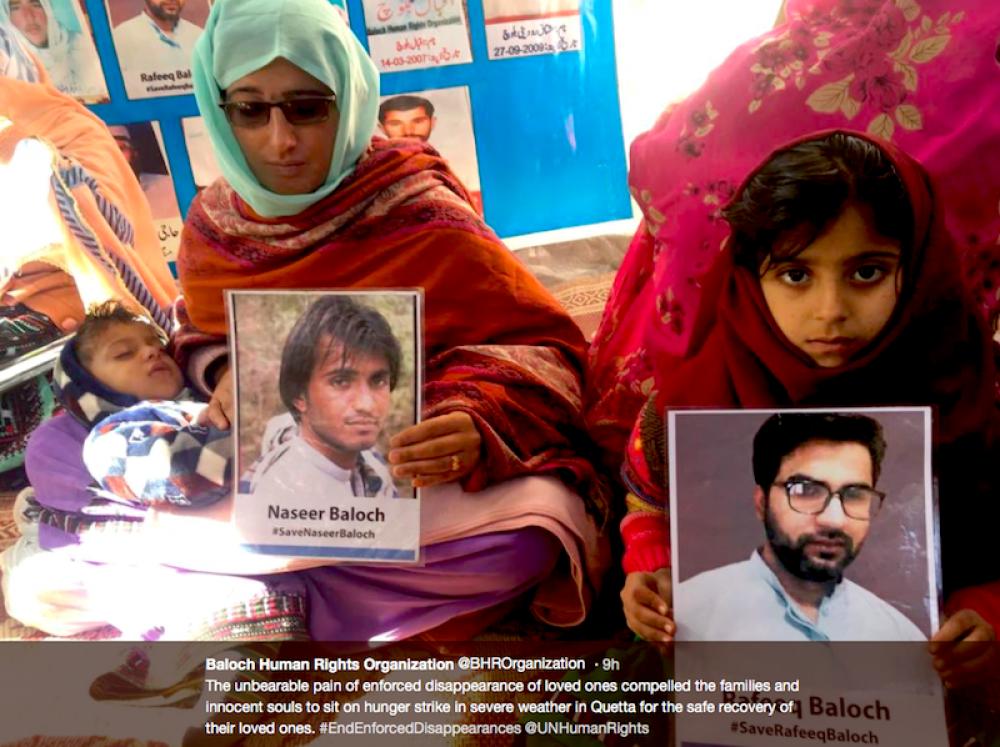 New York: Enforced disappearances of pro-freedom activists in Pakistan's restive Balochistan continued to rile the region seeking separation from the South Asian country the Baloch people consider as brutal enemy.
In another suspected incident of enforced disappearances in Pakistan, a Baloch student and his brother were recently picked up from their residence by the Pakistani forces, located near Karachi University (KU) campus in early January, media and human rights group reports said.
The disappearance comes just weeks after another KU student was taken away in similar fashion from the campus.
According to a tweet by Baloch Human Rights Organization (BHRO), "the unbearable pain of enforced disappearance of loved ones compelled the families and innocent souls to sit on hunger strike in severe weather in Quetta for the safe recovery of their loved ones. #EndEnforcedDisappearances @UNHumanRights."
In yet another tweet, it posted the image of one Rashid Hussain who they claimed was "forcefully disappeared by UAE intelligence officials on January 6, 2019."
"His whereabouts are unknown since then. We demand his immediate release & appeal to @Refugees @amnesty & @hrw to take immediate measures. He will be executed if deported back to Pakistan," BHRO posted.
Rashid Hussain is forcefully disappeared by UAE intelligence officials on January 6, 2019. His whereabouts are unknown since then. We demand his immediate release & appeal to @Refugees @amnesty & @hrw to take immediate measures. He will be executed if deported back to Pakistan. pic.twitter.com/mbpOVIgEnq

— Baloch Human Rights Organization (@BHROrganization) January 22, 2019
BHRO has alleged that "security forces forcibly disappeared 63 persons from Kech, Chagai, Gwadar, Khuzdar, Nushki, Quetta, Awaran, Panjgur and Pishin districts of Balochistan during the month of December 2018."
According to an authored articled by Reema Omer of International Commission of Jurists (ICJ), while in August 2018, the Senate's Functional Committee on Human Rights had urged the Ministry of Human Rights to draft legislation to recognise enforced disappearances as a distinct, autonomous offence and later the Minister for Human Rights, Dr Shireen Mazari, had also announced that the government is considering tabling a law to criminalise it, there was little follow up since on these promises.
"Rather, it appears that instead of bringing a law on enforced disappearances, the government is now considering merely signing (not even ratifying) the International Convention for the Protection of All Persons from Enforced Disappearance (ICPPED) – and that too with reservations," she wrote on Geo News.
While on Jan 24, Pakistan's Federal Minister for Human Rights Shireen Mazari has said that the Pakistan Tehreek-e-Insaaf (PTI) government is going to criminalise enforced disappearances by amending the Pakistan Penal Code (PPC) as promised, rights groups are skeptical still.
"Our Ministry, after inter-ministerial meetings with stakeholders two weeks ago, developed consensus to criminalize enforced disappearances through amends in PPC" she said in a tweet on Jan 24.
Our Ministry, after interministerial mtg with stakeholders, two weeks ago developed consensus to criminalize Enforced Disappearances through amends in PPC. Bill to that effect was drafted & sent to Law Ministry. PTI lives up to its Human Rights commitments. @HamidMirPAK

— Shireen Mazari (@ShireenMazari1) January 24, 2019
But glaring reports of human rights violations continued to pour in from Pakistan for years and decades now.
In July 2018, a mother and two sisters of a missing Baloch child have also been 'taken away' by Pakistani security forces in Alangi, Mashkay, according to The Balochistan Post.
According to sources, Pakistani security personnel in various vehicles raided the house of Allah Baksh, and forcibly took away 55-year-old Noor Malik, and her two daughters- 22-year-old Haseena and 18-year-old Sameena.
Noor Malik's 10-year-old son, Zameer, was also arrested on 3rd July 2018 by Pakistani security forces. Young Zameer has since been missing. His fate remains unknown.
Pakistan is among the top most countries where human rights violations are a common occurrence. However, previously the lesser known human rights epidemic of enforced disappearances is now systematic and widespread.
According to Amnesty International, over recent years, enforced disappearances – once limited to the restive parts of Balochistan and Khyber-Pakhtunkhwa provinces – have spread deep into Pakistan's main urban heartlands.
Rahim Khan, who is associated with the Baloch Freedom Struggle, tweeted, 'Everyday dozens of people are being disappeared and shifted to unknown places by [the] Pakistani military and undercover agencies..'
The Free Balochistan Movement, operating from London, had earlier announced to run a four-day awareness campaign on social media to urge the president of UN General Assembly, María Fernanda Espinosa, to visit Balochistan during her visit to the Asia Pacific.
In their campaign, the FBM activists will also ask the UNGA to meet with families of Baloch missing persons who have been protesting against the abduction of their loved ones by Pakistani forces for the past 10 years.
The FBM in their social media message said that the president of the UN General Assembly should also raise the issue of Enforced Disappearances in Balochistan with Pakistani officials during her visit to Pakistan.
The Free Balochistan Movement activists recently campaigned with the hashtag: #UNVisitBalochistan.
In 2016, Free Balochistan Movement - a political party- was formed. Since then the FBM has organized several successful protests, meetings in the UK, USA, Germany, Greece, Austria, Canada, Sweden, Norway and Afghanistan.
FBM had also organized first ever international long March in Germany.
Earlier in August last year, the FBM conducted worldwide sit-in protest campaigns in front of Chinese Embassies in London, Germany, America, Canada, Netherlands and other countries against ongoing Pakistani state atrocities in Balochistan and China-Pakistan nexus in exploiting and plundering Balochistan's natural resources.
Local human rights organizations and Baloch campaign groups have accused Pakistani security forces of 'abducting' Baloch women and children in past too.
In April last year, a local media outlet had claimed that as many as 40 women and children, of the same family, were under the custody of the Pakistani military and its local death squads in Mashkay, Awaran District in the Balochistan.
In June 2018, Pakistani security forces had forcibly shifted women in Rakshan to an army camp, where they were raped and routinely tortured by the military. According to reports, a pregnant woman lost her unborn child due to the rape.
The fight to find the disappeared in restive Balochistan is growing every day through peaceful sit-in and protest camp of women and children.
According to Nasrullah Baloch, chairman of the non-governmental Voice for Baloch Missing Persons, most of the women protesting are the wives, mothers, and sisters of victims of enforced disappearances who have never before participated in public life.
Early last year, a large number of Sindhi activists carried out an anti-Pakistan protest march on the 115th birth anniversary of GM Syed, the founder of Sindhudesh movement, in his hometown, Sann [Pakistan].
Exiled JSMM - Jeay Sindh Muttahida Mahaz (one of the major separatist political parties in Sindh) - chairman Shafi Burfat via a written message said, "Pakistan is the womb and vector of Islamic extremism. Its unnatural existence is a serious threat to world peace…The world should take serious notice of the Pakistani sponsorship of Global Jihadism and persecution/genocide of secular Sindhi, Baloch, and Pashtun people."
He also appealed to the UNO, the international community, especially USA, Germany, France, UK, and India to demolish Pakistan for the sake of humanity, regional security, and global peace.
The epidemic of enforced disappearances is amongst many state-spread diseases that have terrorized the Islamic nation and particularly non-core groups such as the Baloch and Sindhis.
In Pakistan, the history of enforced disappearances of the Baloch people dates back to the 1970s, when Zulfiqar Ali Bhutto launched a massive military operation against the Baloch in retaliation of its party's total failure in the 1970 election in Balochistan.
Forced disappearances escalated after the US invasion of Afghanistan, post 9/11. The systematic practice of enforced disappearance in Pakistan originated in the era of military dictator General Pervez Musharraf.
According to the chairperson of Defence of Human Rights Pakistan, there are more than 5000 reported cases of enforced disappearance in the Islamic nation. There are no formal allegations or charges against the persons thus forcefully disappeared.
The number above does not include the disappearances in Balochistan where rights group work for the safe release of enforced-disappeared persons in Balochistan. The rights group puts the number of disappeared Baloch between 20,000 and 25,000 since the year 2000 when the current phase of Baloch liberation struggle started.
Hundreds of dumped bodies have been discovered on roadsides and deserted places.
To fight such crimes against humanity, the United Nations General Assembly had adopted the International Convention for the Protection of All Persons from Enforced Disappearance (ICPAPED) to draw attention to the fate of individuals imprisoned at places and under poor conditions unknown to their relatives and/or legal representatives.
So far ninety-one countries are signatories to the convention including India. However, despite widespread demands from civil society, political parties and marginalized people, the Pakistani establishment is unwilling to sign and ratify the convention.
Amnesty International also urged Pakistan authorities to end the practice of enforced disappearances and ratify the convention while ensuring that the activists, human rights defenders, journalists, academics and members of the political opposition are able to peacefully exercise their rights to freedom of expression and association.
The international bodies and organizations that have important roles in the fields of human rights activist and humanitarian aid, such as Amnesty International, the Office of the United Nations High Commissioner for Human Rights (OHCHR) and the International Committee of the Red Cross (ICRC) are very much concerned about the cases of disappearances.
Pakistan has always played the victim card of terrorism; but activists say the actual victims are Sindhis, Baloch people and residents of Pakistan Administered Kashmir.
All these people have been raising their voices against the apathy and human rights violation of Pakistani authorities in their country, as well as internationally since long.