Rights / Gender
Human Rights
After London, NY, Geneva taxis carry 'Save Baloch' adverts
Just Earth News | @justearthnews | 12 Mar 2018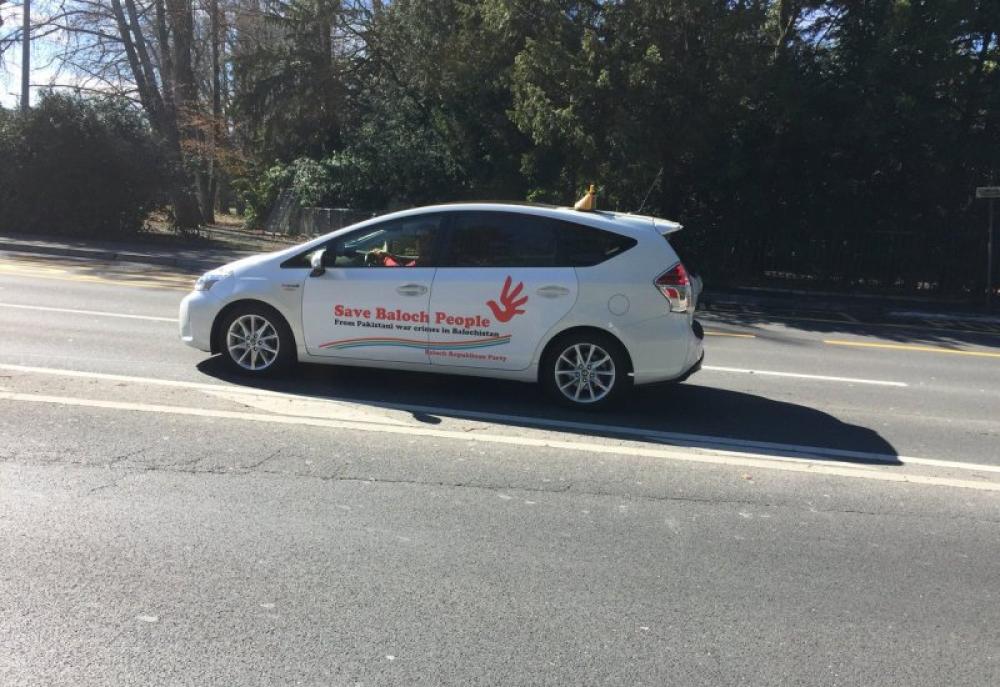 Geneva: Following campaigns in New York and London, Geneva too witnessed 'Save Baloch' adverts as the local taxis were adorned with "Save Baloch People from Pakistani war crimes in Balochistan" slogan.
The campaign was organised by The Baloch Republican Party, who launched it on Thursday.
It is designed to impart knowledge to people of Geneva about human rights abuses in Pakistan, mostly carried out by the government itself.
Meanwhile, the BRP also organised an awareness campaign about the situation in Balochistan on the occasion of 37th session of the UN Human Rights Council, in Geneva.
BRP spokesman, Mr. Sher Mohammad Bugti, in a statement said, "A rally was also carried out from the city centre of Geneva to the UN Office protesting the state atrocities on Baloch people including abductions and mistreatment of the Baloch women."
Bugti added that there was no information of the Baloch women and children abducted by Pakistani forces from Dera Bugti, Nasirabad and Bolan.
Enforced disappearances have become a daily thing in Pakistan.
Not just Baloch people, Islamabad has been ruthless while curbing dissent against the regime.
Earlier this year, senior Pakistani journalist Taha Siddiqui tweeted about an attempted abduction he was subjected to.
Siddiqui, who had in the past been critical about the Pakistani government, was warned in the past.
In the past, people like him, who have questioned Islamabad's motives on various burning issues, too have been picked and roughed up. The scenario is such in Pakistan, that many have been forced to leave the nation and settle abroad.
Raza Khan, a prominent activist, went missing from Lahore on Dec 2, 2017. Khan is a well known peace activist who has campaigned for a healthy India-Pakistan bilateral tie.
Ever since his disappearance, other activists have pointed fingers towards Pakistan's military intelligence agencies, allegations that have been downplayed by the latter.
Speaking about the incident, Atiqa Shahid, peace activist and Khan's close friend, told DW that she is concerned about her friend's safety.
"We're concerned about his safety," she said.
But Khan is not alone in the list. During the course of the year, three other prominent secular activists too went missing.
Salman Haider, a university professor, vanished from Islamabad in January, 2017.
Haider's absence was followed by the disappearances of three other activists, Waqas Goraya, Asim Saeed and Ahmed Raza. These have raised questions, is it a happenstance?
According to Abdul Nawaz Bugti, the representative of BRP to the UNHRC, since the beginning of 2018, 173 Baloch people have been abducted by Pakistani authorities. Additionally, 91 people have been extra-judicially killed.
"There should be no more silence on burning human rights issues of Balochistan. Pakistan should be questioned & held accountable for horrific incidents of human rights abuses in Balochistan by armed forces," he told the UN