Rights / Gender
Human Rights
Pakistani human rights activist Asma Jahangir passes away, world mourns the loss
Just Earth News | @justearthnews | 11 Feb 2018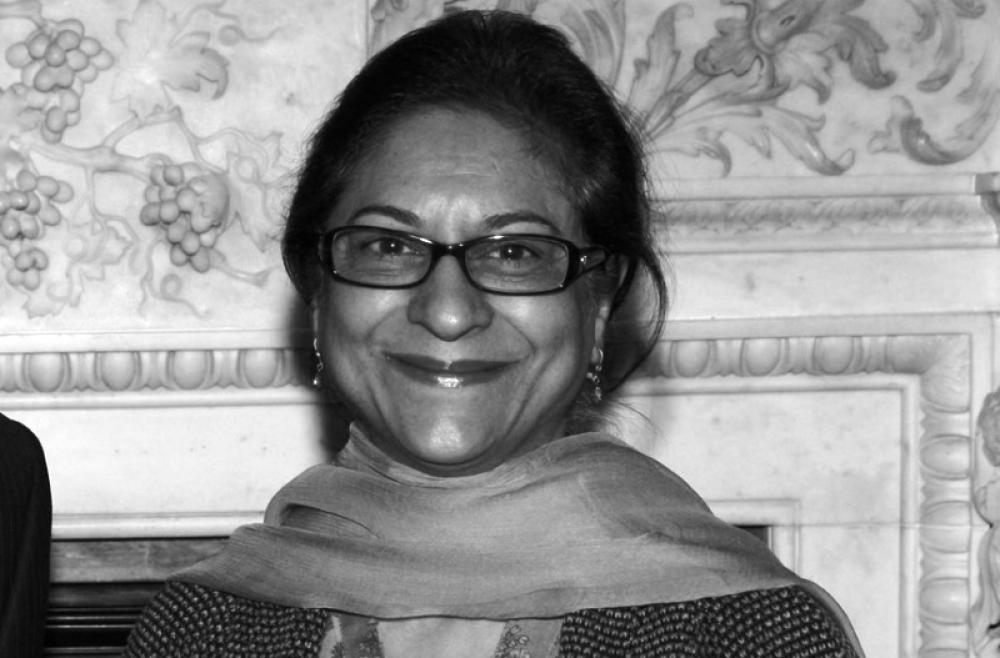 Lahore: Pakistan's iconic lawyer and activist Asma Jahangir, hailed as a leading voice in championing the cause of human rights and a changemaker in her illustrious lifetime, died in Lahore city on Sunday, aged 66, her family said. Respected as a legendary rights activist in Pakistan, she had co-founded the Human Rights Commission of Pakistan and the Women's Action Forum. She was also a strong critic of the powerful military establishment in Pakistan.
Pakistan's Attorney General Ashtar Ausaf mourned her loss saying: "With the passing away of Asma Jahangir we have lost a voice and an opinion. She was an iron lady and will be missed."
According to senior journalist Raza Ahmad Rumi in Pakistan, Jahangir practised in her life what all talk about- speaking the truth.
Asma Jahangir is survived by a son and two daughters. Jahangir was a recipient of the Hilal-i-Imtiaz and Sitara-i-Imtiaz by the Pakistani government.
The family told DawnNews that she suffered from cardiac arrest and was shifted to a hospital, where she passed.
In a tweet last year in June, she had said: "No amount of pressure will deter me from representing women in distress It has been my life mission Till the last breath will stand by them."
She was born on January 1952 in Lahore city.
She is widely known for playing a prominent role in the Lawyers' Movement and served as the trustee at the International Crisis Group.
In 1987 she co-founded the Human Rights Commission of Pakistan and became its Secretary General until 1993 when she was elevated as commission's chairperson.
Jahangir served as the United Nations Special Rapporteur on Freedom of Religion from August 2004 to July 2010, including serving on the U.N. panel for inquiry into Sri Lankan human rights violations and on a fact-finding mission on Israeli settlements.
The nation has been left shocked by her death.
Daughter of former Pakistan CM Nawaz Sharif-Maryam Nawaz Sharif- said: " Democracy, human rights and resistance against oppression lost a great soldier- Asma Jehangir. It's everyone's loss. What a sad day!"
PTI leader Asad Umar said: "Sorry to hear about asma jahangir passing away. I disagreed with many of her political positions but respected the fact that she clearly stood up for what she believed in."
Zaheer-ud-Din Babar Awan, ex-Minister for Law (Pakistan), tweeted: "What a loss! A great colleague Asma Jahangir passes away. Few days ago, we appeared together in the Supreme Court. This distinguished voice shall be remembered for long ."
Pakistani activist Muniba Mazari said: "Rest in Power! #AsmaJahangir."
Nobel prize winner Malala Yousafzai remarked: "Heartbroken that we lost Asma Jahangir - a saviour of democracy and human rights. I met her a week ago in Oxford. I cannot believe she is no more among us. The best tribute to her is to continue her fight for human rights and democracy."
Edward Snowden. the former contractor for the CIA turned whistle blower, tweeted saying Jahangir was extraordinary and brave.
Across the border in India her death was mourned by many human rights activists and people from various walks of life as well.
Indian film writer, lyricist and poet Javed Akhtar called her the bravest and most resilient of fighters for human rights.
Bollywood filmmaker Mahesh Bhatt called her an extraordinary woman who fought for ordinary people.