People
Crisis/Conflict/Terrorism
India bans Sikhs for Justice amid rising concern over Pakistan's plot to revive violent Khalistan campaign
Just Earth News | @justearthnews | 12 Jul 2019 Print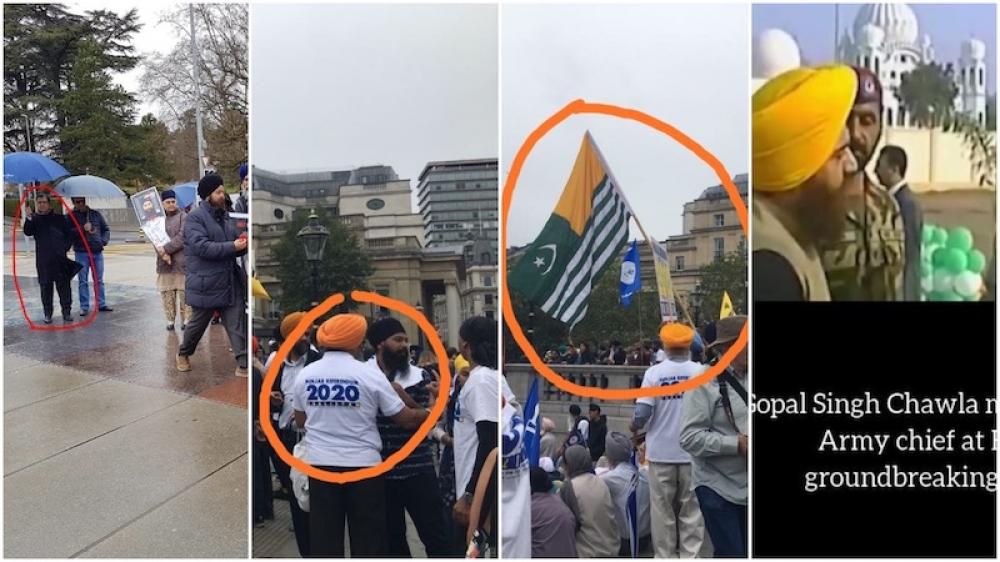 The Indian government this week banned Pakistan-aided pro-Khalistan outfit Sikhs for Justice (SFJ) for a period of five years, giving out a strong message to those supporting the divisive agenda of certain outfits. The move came amid a new fear of the Indian government that operationalising the Kartarpur corridor in Pakistan for Sikh religious tourism could actually help Pakistan use the pilgrimage activities to foment terrorism by stoking the pro-Khalistan campaign.
Canada-based SFJ, the fringe organisation, which was formed in 2007 by Avtar SIngh Pannun, even pushed the Sikh Referendum 2020 as part of its separatist agenda, media reports said.
According to the Referendum website, "Punjab Referendum 2020 is a campaign to liberate Punjab, currently occupied by India. ... The UK government has sent a formal Note Verbale to New Delhi after India repeatedly raised concerns over the Referendum 2020 event to be held in London on August 12 by Sikhs for Justice (SFJ)."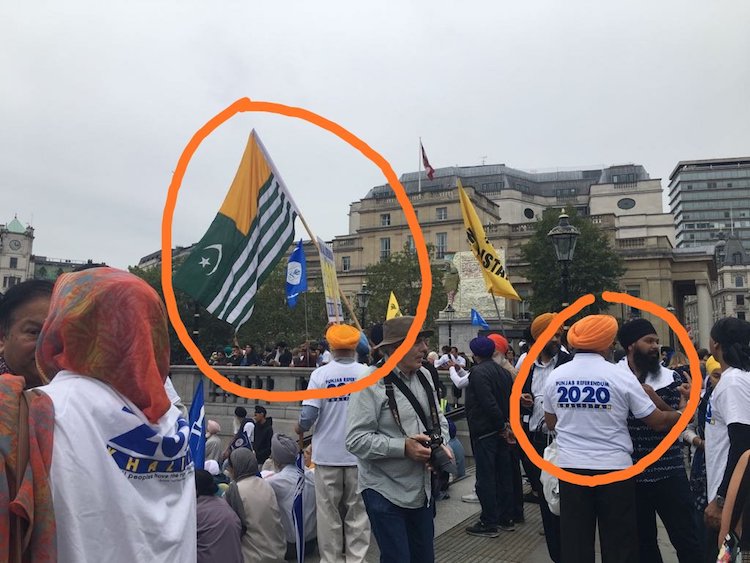 Image: Kashmiri flags appeared during London Declaration of SFJ last year.
The Khalistan movement is a Sikh separatist movement, which seeks to create a separate country called Khalist?n in the Punjab region to serve as a homeland for Sikhs though there is no public support for the same in Indian Punjab province that had to suffer tremendously during the violent Khalistani movement of the 1980s till it was contained by 1993.
Indian Prime Minister Indira Gandhi was assassinated by the terrorists in 1984 as a result of the movement while an Air India plane was also blown up midair by Canadian Sikh terrorists on June 23, 1985.
World Cup stadium incident and ban on SFJ
India's Ministry of External Affairs spokesperson Raveesh Kumar said: "We have taken up this matter very strongly with the Government of Canada and we continue to do so. The Sikhs for Justice has been outlawed by the Unlawful Activities Prevention Act. It has supported anti-India activities and violent forms of extremism in Punjab and elsewhere."
While India and Pakistan, whose relationship hit new low following the 2019 Pulwama Attack and subsequent surgical strikes by India, are trying to facilitate the travel of pilgrims to offer their prayers at the gurdwara, India is worried that Pakistan will use it to foment terrorism by aiding the Khalistani terrorists.
Members of the group even wore the referendum supportive T-shirts as they entered the Old Trafford stadium in Manchetser during the semi-final between India and New Zealand on Tuesday.
Police handcuffed and took the members away.
According to top Indian home department officials as quoted in media, the Indian government has sent a strong warning to fringe groups operating from foreign soils that it will not tolerate secessionist activities, whether carried out in India or abroad, and will take strong action against such entities under law.
Punjab Chief Minister supports Indian government's move:
Indian state Punjab's chief minister Amarinder Signh supported the move and tweeted: "Happy with GoI's decision to ban #SikhsForJustice as unlawful but what we need is a war against the terror outfit. SFJ's threat is grave and nobody, including @Akali_Dal_ , should play it down. Nations allowing SFJ to use their soil for anti-India activities must stop at once!."
Happy with GoI's decision to ban #SikhsForJustice as unlawful but what we need is a war against the terror outfit. SFJ's threat is grave and nobody, including @Akali_Dal_ , should play it down. Nations allowing SFJ to use their soil for anti-India activities must stop at once! pic.twitter.com/X0OPP5Y41k

— Capt.Amarinder Singh (@capt_amarinder) July 10, 2019
Pro-Khalistan campaign, Kartarpur and Pakistan connection:
It seems that there is a strange link emerging between Pakistan, Kartarpur corridor and the entire campagn supporting the pro-Khalistan issue.
According to media reports, Pakistan is recruiting Sikh pilgrims to promote pro-Khalistan campaign "Referendum 2020."
On June 28, 2019, Faridkot police arrested 24-year-old Sukhwinder Singh Sidhu on charges of spying for the Pakistani intelligence since February 2016. It is alleged that at the behest of his Pakistani handlers, Sidhu had relocated near Moga Army Cantonment and was reporting on the movement of Indian Army units and traction of the so-called referendum campaign among Punjab's Sikhs via social media platforms, Hindustan Times reported.
Interrogation details of Sidhu, accessed by Hindustan Times, revealed that Sidhu was recruited by Rawalpindi when he visited the neighbouring country as part of a Jatha from India to visit Sikh holy shrines in Pakistan in November 2015 as part of Guru Parab celebrations.
According to India, Pakistan is blatantly misusing the visit of four annual Sikh Jathas from India to Pakistan under the Bilateral Protocol of Visits to Religious Shrines, 1974, reported the Indian newspaper.
"We have raised this matter bilaterally with Pakistan time and again as not only the Indian Sikh Jathas are targeted to recruitment, the Sikhs coming directly to Pakistan from Canada, UK and Germany are tutored on the so-called referendum campaign, which is largely funded by Islamabad," said a senior Indian diplomat as quoted by Hindustan Times.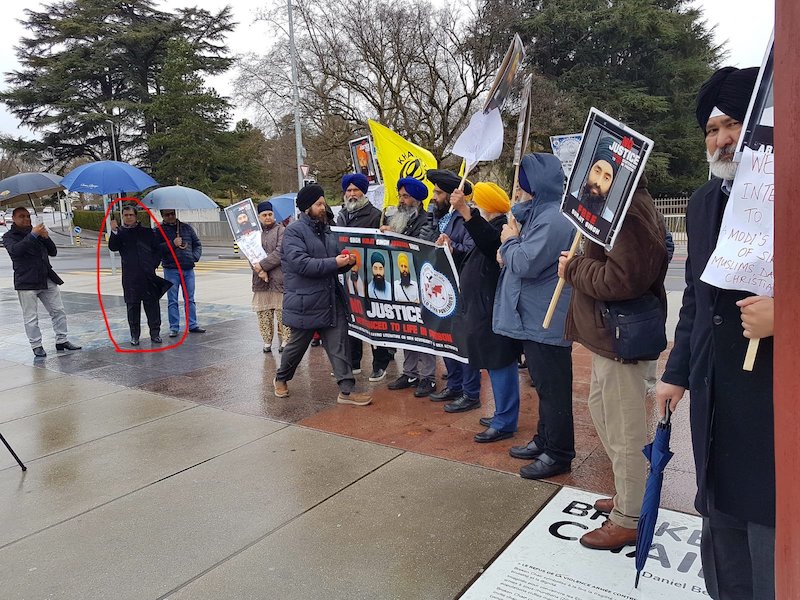 Image: Encircled is a Khalistani national based in Geneva arranging funds for Khalistanis.
However, Sidhu is not the first person who was recruited by agencies in Pakistan.
Earlier, Talwainder Singh (2013), Sukhpreet Kaur and Suraj Pal Singh (2012), Naib Singh and Bhola Singh (2009) have been arrested by the Punjab Police for carrying out espionage activities at the behest of Rawalpindi, reported the newspaper.
Interrogation records show that each one of them was approached and recruited by Pakistani agencies while on a pilgrimage to 18 Sikh shrines in Lahore, Sheikhpura, Nankana Sahib, Narowal and Hassan Abdal near Rawalpindi. Apart from a gap of two to three years post Kargil war, the Sikh Jathas are going to Pakistan for seven to 10 days continuously since 2004, read the newspaper report.
After the corridor becomes active, Indian agencies will screen the pilgrims to Gurudwara Darbar Sahib in Kartarpur.
South Block feels that the chances of recruitment by Pakistani agencies will be limited by the fact that a pilgrim has to return to his home country the same day, reported Hindustan Times.
According to security agencies, Pakistani intelligence not only targets gullible Sikh youth in Jathas (meaning an armed band or organized company of Sikhs) for espionage but also to carry out terror attacks on the Indian side of Punjab, the newspaper reported.
Recently, Pakistan PM Imran Khan also met pro-Khalistan leader and Jaish chief Masood Azhar's aide Gopal Singh Chawla.
During the launch of the Kartarpur corridor, Gopal Chawla was also seen meeting Pakistan Army chief General Qamar Bajwa.
A spokesperson for the Pakistan army had said Bajwa "met all guests at the venue irrespective of identity", reported India Today.
Chawla, however, was grabbing headlines recently when he shared an image of Congress leader Navjot Singh Sidhu wearing a turban with a symbol of the Pakistani national flag.
However, it turned out that the image was actually photoshopped and the cricketer-turned-politician was not wearing a turban resembling the flag.
Navjot Singh Sidhu, who was earlier a member of the Bharatiya Janata Party and later joined the Congress, had triggered a controversy by visiting Pakistan last year to attend the oath-taking ceremony of PM Imran Khan and hugging the country's Army Chief.
Not only the BJP targeted Navjot Singh Sidhu for the move, even his own state CM AMamrinder Singh flayed him.
Few months back, he had even asked the Congress party to which he belongs to choose between him and Navjot Singh Sidhu.
What is Kartarpur Corridor?
The Kartarpur Sahib gurdwara, which is located in Narowal district of Pakistan's Punjab province, is situated 4.5 km from the Indian border near the Dera Baba Nanak town in Punjab's Gurdaspur district.
The site is considered as significant by the members of the Sikh community as it is here that the faith's founder Guru Nanak Dev spent 18 years of his life and even it was his final resting place.
The governments of the neighbpuring nations, whose relationship hit low following the Pulwama terror attack in Indian Kashmir, are trying to facilitate the travel of pilgrims to offer their prayers at the gurdwara.
It has been a demand made by the Sikhs for the past over 70 years though Pakistan under the new chief minister Imran Khan has showed an uncanny alacrity in taking it forward.