Trade tariffs exemption only if new NAFTA signed, Trump warns Trudeau
Just Earth News | @justearthnews | 05 Mar 2018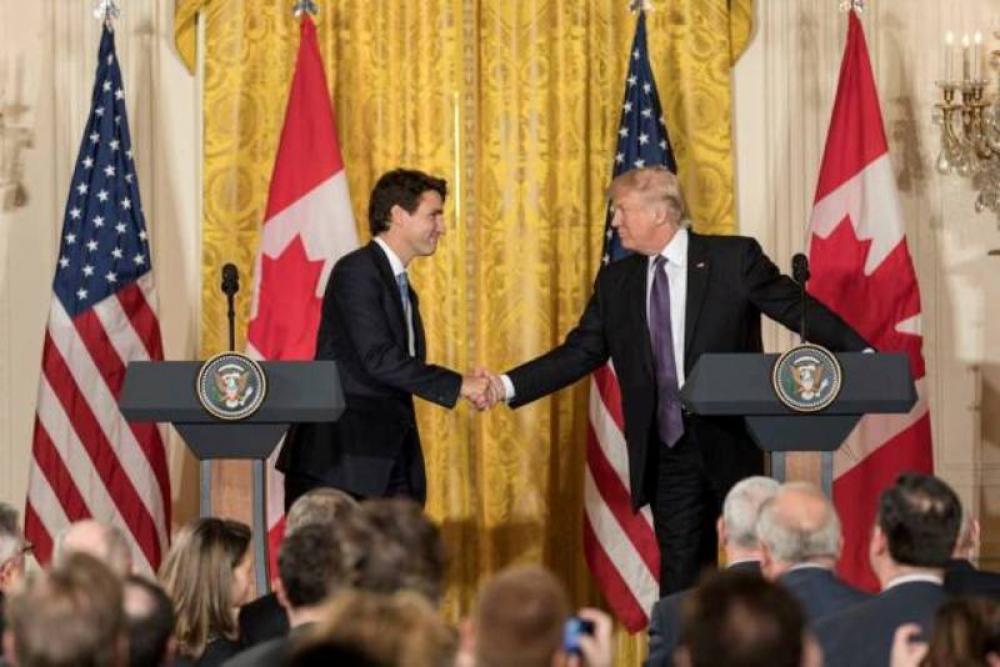 Washington/Ottawa: US President Donald Trump has warned his Canadian counterpart Justin Trudeau that Canada will only be exempted from the trade tariffs, which are planned to be imposed by America, if a fresh North Atlantic Free Trade Agreement (NAFTA) is signed.
Trump on Thursday announced an imposition of 25% and 10% tariffs on imported steel and aluminium respectively from any other country.
Trump has alleged that the US faced severe losses in trade pacts with Canada and Mexico, which is the other partner of NAFTA deal.
NAFTA is an agreement which came into force from January 1994 by Canada, Mexico and United States creating a trilateral trade bloc in North America.
With a tone of warning to Canada, Trump on Monday tweeted, "We have large trade deficits with Mexico and Canada. NAFTA, which is under renegotiation right now, has been a bad deal for U.S.A. Massive relocation of companies & jobs. Tariffs on Steel and Aluminum will only come off if new & fair NAFTA agreement is signed. Also, Canada must.."
Hitting out at Mexico, the US President tweeted, "...treat our farmers much better. Highly restrictive. Mexico must do much more on stopping drugs from pouring into the U.S. They have not done what needs to be done. Millions of people addicted and dying.
Days ago, Trudeau had termed the imposition of trade tariffs as "unacceptable".
Trudeau was quoted by CBC News, "We will continue to engage with all levels of the American administration in the coming days so that they understand that this proposal is unacceptable."
Canadian Foreign Affairs Minister Chrystia Freeland had said "responsive measures" will be taken if Canada is not exempted at the last minute.
She said: "It is entirely inappropriate to view any trade with Canada as a national security threat to the United States. We will always stand up for Canadian workers and Canadian businesses. Should restrictions be imposed on Canadian steel and aluminum products, Canada will take responsive measures to defend its trade interests and workers."
Trump hopes the imposition of tariffs will help him to bring back jobs to the US which he alleged to have been stolen by other countries that acted unfairly.
Canada still can hope for a last minute exemption as it was done in 2002 when then US President George W. Bush had imposed a tariff on steel imports.
Image: facebook/@POTUS